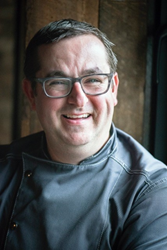 Your all-day, all-night neighborhood go-to!
Chicago, IL (PRWEB) May 29, 2015
The Windsor, a new American restaurant from 4 Star Restaurant Group will open at 160 E Huron Street in mid-July (contact Jody.Grimaldi(at)gmail(dot)com for interview requests or photos). The full service lunch, dinner and brunch concept gives Streeterville a warm and inviting, neighborhood-centric bar and kitchen, with menu creation and culinary operations spearheaded by Corporate Chef Todd Stein. Focusing on shared plates, creative rotisserie offerings and craft cocktails, The Windsor is being loosely modeled after 4 Star's family-friendly spot in Lakeview, Crosby's Kitchen, but with a grown-up, downtown twist.
"The Windsor can be considered Crosby's urban cousin," said 4 Star partner Doug Dunlay, who along with his three partners recently opened Remington's, a classic American grill on Michigan Avenue. "Whereas Crosby's Kitchen is geared more towards family dining, we're looking for The Windsor to be more bar driven. It will be your all-day, all-night neighborhood go-to!"
The 5,000 square foot space formerly occupied by Elephant & Castle has been completely gutted and is being rebuilt by Mark Knauer, a leading visionary in hospitality architecture who just put the finishing touches on Remington's. The Windsor aims for sustainability in terms of look and feel. Knauer has crafted a comfortable, Machine Age design. "We're aspiring for a timeless appearance, one which will hold up in 20 years," added Dunlay. The space incorporates dark woods in the bar, large framed art pieces, cushy leather chairs, and distressed Machine Age fixtures. The dining room presents an array of seating options, from oversized, tufted booths to banquets that can be sectioned off for private events (total seating capacity will be approximately 130 people, including 30 in the bar). A two-sided fireplace partitions the back dining area, lending to the warm and "cozy" ambiance. Along the St. Clair Street side, floor-to-ceiling windows will completely retract, giving way to an alfresco atmosphere when dining inside during warm weather months. A flower-laden sidewalk patio on St. Clair & Huron will seat another 50 people, weather permitting.
Chef Stein is putting the finishing touches on the lunch, brunch and dinner menus, which will focus on seasonal and ingredient driven, American fare made from scratch daily. Top billing goes to the rotisserie specialties, which Dunlay assures will be "above and beyond" anything offered at 4 Star's other restaurants. Some of the interesting items designated for rotisserie cooking are porchetta, leg of lamb, pork/carnitas, and a rotating selection of chicken – from Jerk to Hawaiian styles. Other menu highlights include a version of the Chicken Dip (perhaps a Turkey Dip) immortalized at Crosby's Kitchen, veggie burger, a new version of deviled eggs (not the lobster devil eggs offered at several other 4 Star spots), and the original 4 Star Wrightwood Salad.
The Windsor will also offer guests an extensive wine menu, with varieties spanning most growing regions and domestic selections by the glass or bottle. The beverage program will include artisanal craft beers as well as a vast array of specialty cocktails, from classics to modern interpretations. The Windsor will extend a focused carryout menu featuring fresh and nutritious meals on the go – to assist the many families, professionals, hospital employees and patients in the area. More details to be announced in subsequent release.
About Chef Todd Stein:
4 Star Restaurant Group's Corporate Chef Todd Stein has helmed several top kitchens across the country. Before signing on in early 2013 as Executive Chef at TWO Urban Licks in Atlanta, he staged under Chef Eric Ripert at New York's Le Bernadin, and led the charge at David Burke in Las Vegas and BANK in Minneapolis. In Chicago, Chef Stein's resume includes head positions at MK, Cibo Matto, The Florentine and Piccolo Sogno Due. In 2011, he competed on Food Network's Iron Chef America, narrowly losing to Bobby Flay.
About 4 Star Restaurant Group:
4 Star Restaurant group has brought Chicago some of its most prominent neighborhood spots, including The Smoke Daddy, Frasca Pizzeria & Wine Bar, Dunlays (Lincoln Park and Logan Square), D.O.C. Wine Bar (Chicago and Lombard), Crosby's Kitchen, The Windsor, and Remington's. Like the four stars on the Chicago flag, of which their corporate name and logo are modeled after, each of 4 Star's four owners – Doug Dunlay, Mike Dunlay, Derek Rettell, and Josh Rutherford – is committed to 'cultivating community' through their growing line of Chicagoland restaurants. 4 Star offers Chicago authenticity and comfort, which is evident in everything from their high-quality, chef-driven menus to their friendly and knowledgeable wait staff. http://fourstarrestaurantgroup.com/.
Media Contact:
Jody Grimaldi
630.470.0044
Jody.grimaldi(at)gmail(dot)com