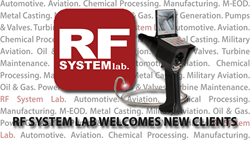 Traverse City, MI (PRWEB) May 29, 2015
The second quarter of 2015 is off to a good start for RF System Lab, a world-wide leader in remote visual inspection and manufacturer of the VJ-Advance (VJ-ADV) video borescope. RF System Lab announces a group of impressive companies from a variety of industries as their latest VJ-ADV borescope customers. A few of the industries represented below include aviation, power generation, automotive, and casting.
Representing RF System Lab's newest customers in the aviation industry are Ryan Air and Rotortech Services. Ryan Air, an Alaska Bush carrier that specializes in air cargo shipping, required an inspection camera for PT6 turbine inspections on fixed-wing aircraft. They selected the portable VJ-ADV because of its ability to fully-operate in rugged conditions and extremely low temperatures.
Rotortech Services, located in the much warmer Palm Beach, Florida, provides state-of-the-art maintenance and repair services to helicopters. They took advantage of RF System Lab's free demo program after visiting RF System Lab's booth at this year's HAI Heli Expo. Rotortech utilizes the VJ-ADV for Turbomeca Arriel inspections on Airbus rotorcraft. The extreme portability of the AA-battery powered VJ-ADV, weighing in at less than 2lbs, was a big factor in Rotortech's purchasing decision.
Consolidated Edison (Con Edison) is a new VJ-Advance video borescope user in the power generation industry. Con Edison, one of the largest investor-owned energy companies in the United States, was looking for a high-quality tool to complete internal transformer inspections. The power company selected the 6.9mm diameter VJ-Advance video borescope for their routine internal RVI of their transformer generators. Con Edison needed to complete these routine inspections with oil still present in the transformers, which is why they selected the VJ-ADV, with a rugged insertion tube that can be submerged and still articulate without issue.
RF System Lab is proud to have as a customer an important member of the automotive industry, Fiat Chrysler Automobiles (FCA Group). FCA Group, an international auto group that is a merger of Fiat and Chrysler, needed a video borescope to inspect the body-side box chambers on the vehicles they manufacture. They had been using a Snap-On borescope, but were looking to invest in a higher quality tool that featured precise articulation. RF System Lab is grateful that FCA Group made the investment in the VJ-ADV to complete future inspections.
Joining RF System Lab's list of clients in the casting industry is Fredon Corporation. Fredon Corporation, a company that specializes in intricate parts, assemblies, and materials, was looking for the best inspection camera for ensuring the complete removal of burrs and residual sand. The super-slim 3.9mm VJ-ADV was able to smoothly and efficiently navigate through critical core passageways to check for any signs of FOD, which made Fredon's purchase decision an easy one.
RF System Lab would like to thank these clients, as well as all other companies that became customers at the start of the second quarter. If you would like to demo the VJ-Advance video borescope, you can sign up for a no-cost, no-obligation demo program. For more information on RF System Lab, please visit their website or call 855-787-6966 to speak with one of their borescope experts about your specific internal inspection needs.