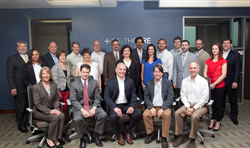 RIDGELAND, Miss. (PRWEB) May 29, 2015
The Healthcare Delivery Institute at HORNE LLP recently announced the graduates of its Advanced Training Program (ATP) in Healthcare Delivery Improvement. The ATP trains students, who fill roles in their health care organization ranging from clinicians to CFOs, in both the theory and methodology of continuous quality improvement in the health care environment. The program is a sister-program to Dr. Brent James' internationally recognized Advanced Training Program at Intermountain Healthcare.
"An unprecedented focus on quality, unsustainable costs and current legislation has created highly disruptive changes in our country's health care system. As a result, health care providers will be directly impacted," said HDI Director Thomas Prewitt, M.D. "Given HORNE's long tenure of service and our depth of experience in the health care industry, we believe it is our responsibility to help providers prepare for the new health care delivery models of the future."
Graduates of the 2014 ATP were: from the Thibodaux Regional Medical Center Danna Caillouet, Greg Chaisson, Jay Fakier, Mark Hebert, Paul Monier, Christopher Rodrigue, Greg Stock, Raja Talluri and Sheri Eschete; from the University Mississippi Medical Center Elizabeth Bromberg, Nancy Hicks, Lisa Watts, Sloan Youngblood and Kasey Broussard; from Mississippi Children's Home Services Fortson Baird, Denny Hydrick and Bertina Rice; from South Central Regional Medical Center Ladd Hatten and G. Douglas Higginbotham; and Aaron Neiderhiser from Health Catalyst.
The ATP curriculum is built on improvement theory, data and measurement, delivery model change, and leadership. The course gives participants the knowledge base and skills to undertake leadership roles in quality and policy areas of virtually any health care environment. Faculty includes local, regional and national speakers with expertise in health care delivery, process improvement, data analytics, technology, finance, clinical integration and leadership.
The ATP registration is open for the fall 2015. Details about the program, including exact dates and tuition fees are available here. You can follow HORNE's Healthcare Delivery Institute on Twitter @MacroMedicine.
HORNE is a decidedly different CPA and business advisory firm that is changing expectations about accounting. HORNE goes beyond traditional accounting to steer clients through uncertainties and opportunities. We focus our knowledge and experience in healthcare, banking, construction, franchise, government services, and public and middle market. HORNE Wealth Advisors is a fiduciary partner to high net worth individuals. Visit us at hornellp.com.