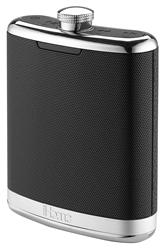 RAHWAY, NJ (PRWEB) May 30, 2015
iHome, the best-selling digital speaker brand since 2006, is shipping its first group of new products from their diverse award-winning 2015 catalog. Each highly portable and unique, the new group of wireless audio gear is highlighted by the iBT12 and iBT32 SoundFlask Bluetooth Speakers, which were a huge hit at CES thanks to their distinct ultra-thin design and incredible sound beyond their portable pocket-size. The smaller of the 'Soundflask' speakers, the iBT12 sports a sleek on-the-go body style, built-in mic with echo cancelling speakerphone, crisp clear audio, custom sound case and more. The iBT32 is the slightly larger of the units and also features smart speakerphone integration and a slim portable design, but packs an even bigger sonic punch with its dynamic four speaker stereo system. Additionally, its universal USB port allows users to charge devices anywhere with ease.
iHome is following up on the success of their popular iBN6 Portable iPX7-rated Waterproof Bluetooth Speaker by rolling out a new series of rugged and versatile portable speakers aimed at active lifestyle enthusiasts. The first model available is the iBT3 Splash-Proof Wireless Speaker With Speakerphone, which can be mounted on a bicycle or a stroller and can thrive in wet or sunny weather. And it is only $39.99! Coming soon and available for pre-order now on iHome.com, is the stylish and durable iBT33 Weather Resistant Rechargeable Stereo Bluetooth Speaker with Speakerphone. Featuring an iPX4 splash resistance rating, on unit speakerphone controls and Bluetooth connect-ability, this portable and built-tough speaker is a great option for cookouts, camping, pool parties and more.
More details and features for each of the four new units from iHome:

More products from iHome's 2015 catalog will be available in the coming weeks and months, including their highly anticipated first Apple HomeKit enabled smart home device, the iHome iSP5 Smart Plug, which is scheduled for release this June. For more information about iHome and its products, visit iHome.com.