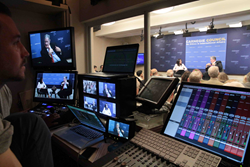 Since its founding by Andrew Carnegie a century ago, Carnegie Council has been one of the world's top creators of nonpartisan educational resources on international ethics.
(PRWEB) May 29, 2015
Carnegie Council for Ethics in International Affairs announces its June events, which are open to the public and held in New York City.
Attend the events at Council Headquarters: 170 E 64 St, New York City, 10065.
Register at http://carnegiecouncil.eventbrite.com
Or watch them live online: http://www.carnegiecouncil.org/live
Full transcripts, audios, podcasts, and videos will be posted soon after the events.
June 2, 8AM. "A Dangerous Master: How to Keep Technology from Slipping Beyond Our Control" with Wendell Wallach
June 3, 6PM. Conversation with Ethan Zuckerman on the Ethics of the Internet
June 8, 8AM. Agenda for the Future: UN High Commissioner for Human Rights Zeid Ra'ad Al Hussein
June 11, 6PM. Conversation with Ashoka Founder Bill Drayton on Social Entrepreneurship
June 18, 6PM. Ethical Leadership: Conversation with Chuck Hagel
June 30, 8AM. Gary Hart: The Republic of Conscience
Founded by Andrew Carnegie in 1914, Carnegie Council for Ethics in International Affairs is an educational, nonprofit, nonpartisan organization that produces lectures, publications, and multimedia materials on the ethical challenges of living in a globalized world. Visit http://www.carnegiecouncil.org