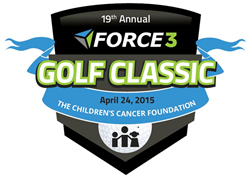 Force 3 is pleased to support CCF in their mission to fight pediatric cancer.
Crofton, Md. (PRWEB) May 29, 2015
Force 3, The Network Security Company, today announced that their 19th Annual Charity Golf Tournament raised $100,000 for The Children's Cancer Foundation, Inc. (CCF). Held on April 24, 2015 at Lake Presidential Golf Course in Upper Marlboro, Maryland, the tournament's proceeds will support CCF's mission to fight childhood cancer.
The Children's Cancer Foundation, Inc. ® (CCF) is a local charity committed to raising funds for research and treatment of cancers that affect children. Despite paramount advances in cancer treatment in recent decades, cancer still remains the leading cause of death in children. In its effort to fight pediatric cancer, CCF provides critical funding to researchers and facilities focused on treating and curing pediatric cancers.
"At Force 3, we have been proud supporters of The Children's Cancer Foundation for nearly 20 years," said Mike Greaney, Force 3 CEO. "Thanks to the generous support of the 19th Annual Force 3 Charity Golf Tournament by the Force 3 team, our partners and friends, we are pleased to be able to provide critical funding for continued research and treatment of cancers that affect children."
This year, Force 3 is also proud to sponsor a research fellowship for Dr. Jeff Toretsky, a pediatric oncologist from Georgetown Lombardi Comprehensive Cancer Center. Dr. Toretsky has been studying Ewing Sarcoma, a rare cancer of the bone or soft tissue, since 1992. The fellowship sponsored by Force 3 will help to support Dr. Toretsky and his team in the development of a drug that specifically targets this cancer. At the same time, they hope to improve the survival rates for Ewing Sarcoma patients while extrapolating research and evidence from this work to support the treatment of other childhood cancers.
To continue this momentum for CCF, Force 3 will be hosting their 3rd Annual Crushin' Cancer Crab Feast at The Jetty in Grasonville, Maryland on Thursday, June 4. For details, please visit: http://birdeasepro.com/F3Crushincancercrab
About Force 3
Force 3 is the network security company, providing infrastructure services to design, deploy, support and maintain their clients' technology needs. Their team of passionate experts includes industry leading security professionals, with the highest levels of certifications, proficiencies and experience. Force 3 boasts the only dedicated support service offering in the Federal market, ensuring optimal uptime to keep your infrastructure running efficiently. Whether an enterprise network, mobility, collaboration, data center or next-generation solution – Force 3's highly trained engineers and strategic partnerships deliver secure solutions for agencies who demand value and reliability.