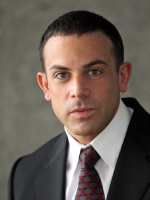 Woodland Hills, California (PRWEB) May 29, 2015
Peak Commercial successfully represented the seller in the sale of an approximately 36,000 square foot building located near the Van Nuys Airport, at 7741 Hayvenhurst Avenue in Van Nuys, California. The sale price at $5.5 million breaks down to approximately $155.56 per square foot. Peak Commercial is a commercial real estate brokerage that specializes in commercial buyer / seller representation in retail, office building, industrial, land and REO commercial transactions (http://www.peakcommercial.com). EVP, Kevin M. Levine of Peak Commercial as listing agent attributes this recent transaction to continued investor interest in the San Fernando Valley industrial market. "The buyer purchased Class A commercial property we believe is a great investment in a market that has seen growth and presents strong upside potential." Levine continues, saying, "The building is 100% leased until June of 2023, which further made the property an ideal investment."
Highlights of the purchased property include, significant tenant improvements by the lessee, minimum landlord responsibilities, a Class A building built in 2003, annual rent increases, and a prime location. "This property has been kept in great condition and its close proximity to the Van Nuys Airport and 405 freeway add to its overall value," says Levine. The current tenant has created and built the world's first all-trampoline, walled playing court and operates 62 Locations across the United States and Canada.
As noted in a recent Collier's International report, the San Fernando Industrial market's vacancy rate during the 1st quarter of 2015 dropped to 2.9% from 3.3% in the previous quarter. "The San Fernando Valley Industrial market is extremely competitive, and its vacancy rate reflects the demand of business owners and investors to work and own in this market," states Levine. "Buyers recognize this as an improving market, and see long term benefits by purchasing investment properties in the area."
Levine and Peak Commercial are very active in the sales of commercial properties in the San Fernando Valley. "We are located in the San Fernando Valley, in Woodland Hills, and the experts in the area," says Levine. "The sale at 7741 Hayvenhurst Avenue is an example of the value Peak Commercial brings to buyers and sellers in this market."
Peak Commercial is one of the entities in the Peak Corporate Network, headquartered in Woodland Hills, California. In addition to commercial real estate brokerage services, the Peak Corporate Network group of companies provide loss mitigation and workout services, residential real estate brokerage services, escrow services, 1031 exchange services, real estate financing, short sale services, foreclosure services and loan servicing. For more information, visit http://www.peakcorp.com.
The Peak Corporate Network is a brand that represents a group of related separate legal entities, each providing its unique set of real estate services.