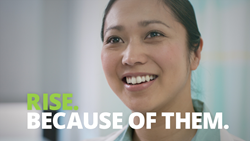 "We wanted to celebrate the people who use WorldRemit - dedicated, family-loving migrants who don't often get the recognition they deserve," Luciana Telles, WorldRemit's VP of Marketing
London, UK (PRWEB UK) 1 June 2015
Migrant workers take centre stage in a new ad campaign by online money transfer service WorldRemit. "Because of Them" highlights the personal and economic contribution of people who have moved abroad but continue to support family overseas. The short films tell the story of Alma, David and Miguel - a doctor, teacher and dockhand. Their long, hard work days allow them to send money back to help their relatives.
"We wanted to celebrate the people who use WorldRemit - dedicated, family-loving migrants who don't often get the recognition they deserve," said Luciana Telles, WorldRemit's VP of Marketing. "So much is written in the media about migrants and their role in the economy and it's not always positive. Yet every day we see people who are making a valuable contribution to both their adopted countries and their homelands."
Global remittance payments totalled $583bn in 2014, according to data from the World Bank. $440 billion was sent to people in developing countries alone. At the same time, migrant workers made a positive economic contribution to their adopted nations, according to research by the OECD.
WorldRemit's "Because of Them" campaign is being supported by a special website WorldRemit Stories where people can view real-life migrant experiences.
The campaign will be primarily online so as to most effectively reach migrants in more than 50 send countries and their families and friends in over 120 receive countries.
"Because of Them" was created for WorldRemit by Bravespark and directed by Chris Gaffey. The original score was composed by Felix Erskine whose recent work includes teaser trailers for Star Wars: The Force Awakens.
Note to editors

About WorldRemit
WorldRemit an online service that lets people send money to friends and family in other countries. Customers can use WorldRemit anywhere, anytime on their smartphone, tablet or computer. For those receiving money, WorldRemit offers a range of options including bank deposit, cash collection, Mobile Money, and mobile airtime top-up.
With low fees and guaranteed exchange rates, WorldRemit is bringing fair, transparent pricing to the money transfer industry. The service is available in 50 countries and sends to more than 120 receive countries.
WorldRemit received a $40m Series A funding round in 2014 from Accel Partners and a $100m Series B funding round led by Technology Crossover Ventures in 2015. WorldRemit's global headquarters are in London, UK with regional offices in USA, Canada, Australia and New Zealand.
Media contact: media(at)worldremit(dot)com