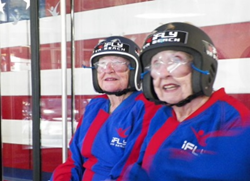 It was great fun!
(PRWEB) May 29, 2015
Dot Hill can mark one more item off her bucket list: skydiving.
The 91-year-old resident of Lake Prince Woods retirement community is the oldest woman to have flown at an indoor skydiving facility in Virginia Beach, Virginia.
"It was great fun!", she exclaimed. "I've always wanted to jump from an airplane but my children didn't want me to so they thought this would be ok."
"We put on nylon coveralls, helmets, and goggles and stepped into a vertical wind tunnel," she described. "I don't remember it being noisy, but the wind was blowing over 100 miles per hour. We got to take three rides of about a minute each."
The only downside of the trip for Dot was she wished it could have lasted longer.
Dot's trip to the skydiving facility was part of the Grant A Dream program at Lake Prince Woods and the other facilities that are part of United Church Homes and Services. The goal of Grant a Dream is to renew and celebrate a passion while creating joy within the hearts of seniors. The core of the program is to grant basic dreams for residents within United Church Homes and Services communities, Lake Prince Woods being one of them.
After word got around Lake Prince Woods about what Dot was going to do, some of her fellow residents decided they would join her. Even some staff members got in on the fun.
Lake Prince Woods is a residential retirement community offering an array of lifestyle choices. Located in Suffolk, Virginia, the community is nestled among 172 lovely wooded acres bordering Lake Prince. As a continuing care retirement community, Lake Prince Woods offers residential living, assisted living, memory care and skilled nursing care. To learn more, visit the website: http://www.lakeprincewoods.org.