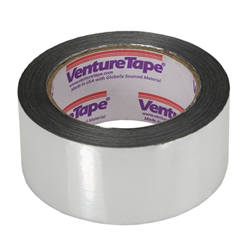 Urbana, IA (PRWEB) May 29, 2015
EcoFoil, a leading manufacturer of radiant barrier and foil bubble insulation products has recently updated its selection of insulation tape to include a new, higher-quality aluminum foil tape in a longer, 180' length. The tape, available in both a 2" width and a 3" width, offers customers increased durability for a wide range of environmental conditions.
EcoFoil Sales Specialist Matt Bruckman says the decision to upgrade the tape to a higher quality offering came about from the growing market for heavy duty eco-friendly products that can handle a range of temperatures.
"This type of tape is excellent for use with our bubble insulation products and solid radiant barrier products, and can be used in temperatures ranging from -35 degrees up to 260 degrees Fahrenheit," says Bruckman. "There is no better product to seal seams or repair tears that can occur over time; we're pleased to be able to offer it to our customers."
Bruckman says the higher-quality product offering is part of the company's constant attention to quality control and value. The initiative has also recently resulted in the addition of bulk pricing options on all of the company's insulation and tape products.
"We had a great response when we tested bulk pricing last year with just a few products, so we're happy to expand it to nearly all of our products on the website now," said Bruckman. "Customers can find bulk pricing rates right on each product page, or they can call us for a custom quote."
EcoFoil can be purchased online at EcoFoil.com or by calling 888-349-3645, where expert sales professional can help guide customers through the process of choosing the right products for their needs.
###
About EcoFoil
EcoFoil is a leading supplier of radiant barrier and foil bubble insulation. Products are manufactured in the USA and Canada exclusively - we do not sell radiant barrier product imported from Asia. EcoFoil is a division of Clickstop, Inc., located in Urbana, Iowa. Clickstop was founded in 2005 as a manufacturer's representative and distributor of building materials to customers in the Midwest. The company expanded to develop an e-commerce business and now sells EcoFoil direct to customers in all 50 states and internationally through our website, EcoFoil.com. Clickstop has earned an A+ Rating from the Iowa division of the Better Business Bureau. For more information, visit EcoFoil.com.