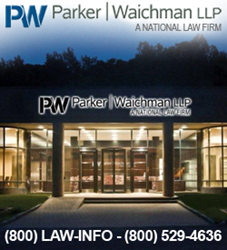 Port Washington, New York (PRWEB) June 01, 2015
Parker Waichman LLP, a national law firm that has spent many years fighting to ensure that the heroes and survivors of the 9/11 terrorist attacks are never forgotten, comments on new research linking autoimmune illnesses to toxic dust exposure at Ground Zero. A study published April 27, 2015 in the journal Arthritis & Rheumatology found that World Trade Center (WTC) recovery workers were twice as likely to develop an autoimmune disease if they spent over two months working at Ground Zero. Each additional month of working at the site was associated with a 13 percent increased risk. The most common autoimmune disease among WTC recovery workers was rheumatoid arthritis (37 percent), the study found. The next most common diseases were: Spondyloarthritis (22 percent), inflammatory myositis (14 percent), systemic lupus erythematosus (12 percent), systemic sclerosis (5 percent), Sjögren's syndrome (5 percent), antiphospholipid syndrome (3 percent), and granulomatosis with polyangiitis (Wegener's) (2 percent).
According to Parker Waichman, a number of first responders may not be aware that they are afflicted with an illness resulting from their work at the 9/11 Ground Zero site. "While some diseases became apparent right away, others are taking years to manifest." said Matthew J. McCauley, Senior Litigation Counsel at Parker Waichman. "This study suggests that rheumatoid arthritis and other autoimmune diseases are linked to WTC exposure in the weeks and months following the attacks, yet these conditions are not currently considered eligible under the Zadroga Act. We continue to actively support efforts to add autoimmune diseases to the list of eligible conditions under the Act."
An NJ.com report dated May 11, 2015 emphasized that rescue workers and nearby residents may be affected by the attacks years later. For example, David Innocenti was a New York Stock Exchange worker who was forced into early retirement due to rheumatoid arthritis, which essentially left him homebound. "I don't think anyone was saying at the time, 'I might get sick from this,'" he told NJ.com. "You didn't consider the long-term effects until your legs didn't work." According to NJ.com, the World Trade Center Health Program recently announced that it may consider adding autoimmune diseases to the list of eligible conditions.
Parker Waichman comments that these findings highlight the need to reauthorize and expand coverage provided by the Zadroga Act, which established the World Trade Center (WTC) Health Program and the September 11th Victim Compensation Fund (VCF). The VCF provides compensation to those who became ill and their families, while the WTC Health program provides medical treatment and monitoring. Unless Congress acts, these programs will expire in October 2016 and October 2015, respectively. "It is vital to renew the Zadroga Act, which provides crucial aid to responders and survivors affected by the attacks," said Gary Falkowitz, Managing Attorney at Parker Waichman. "Extending the timeline is especially important considering that many responders and survivors may not even realize that their health conditions are a result of 9/11."
Parker Waichman actively worked toward passage of the Zadroga Act, which was passed in 2010. The firm's actions include, in part, lobbying efforts and trips to the nation's capital led by Mr. McCauley, often, along with the firm's clients. Mr. McCauley and Parker Waichman continue to support the Zadroga Act and continue to support efforts to extend the Act's timeline and its scope.
Parker Waichman LLP, which worked, and continues to fight, alongside Ground Zero first responders, survivors, and their advocates, to help ensure passage of the Zadroga Act and its amendments, vows to continue its efforts to safeguard these heroes and ensure that they receive all of the Zadroga Act compensation they deserve. If you or a loved one are eligible for compensation under the Zadroga Act, and would like assistance with your claim, please visit Parker Waichman's website or call 1-800-LAW-INFO (1-800-529-4636).