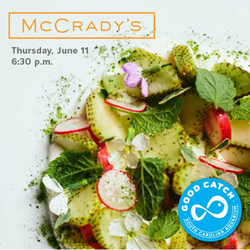 Charleston, S.C. (PRWEB) June 04, 2015
One of Charleston's finest dining establishments has partnered with Good Catch at the South Carolina Aquarium for an unforgettable dining experience featuring local and sustainable seafood. The four-course dinner takes place at McCrady's Restaurant on June 11 at 6:30 p.m.
Prepared by the talented staff of James Beard Award-winning chef Sean Brock, McCrady's is famous for its innovative Southern cuisine. The elegant and historic building that was erected in the late 1700s makes guests feel as though they are dining among the famous colonial dignitaries who were once hosted by the establishment including the country's first president, George Washington. McCrady's also highlights its commitment to sustainability with its menu rich in local, fresh and seasonal ingredients.
Offerings Include:

1st course: Clams from the ACE Basin, New Crop Potatoes, Cured Pork, Benne
2nd course: Grilled SC Shrimp, Summer Squash, Marjoram, Anson Mills Grits
3rd course: Oil Poached Mahi, Edisto Tomatoes, Carolina Gold Rice, Sumac
4th course: A Seasonal Dessert featuring Local Peaches
South Carolina Aquarium's Good Catch Manager, Shelley Dearhart, will be in attendance to share more about how to make sustainable choices when dining out and at home. Reservations are $65 each or $100 with wine pairings. A portion of proceeds will benefit Good Catch, the Aquarium's sustainable seafood program. To make your reservation for this special occasion, call (843) 577-FISH (3474).
Fast Facts:

The Good Catch dinner takes place Thursday, June 11, 2015 at 6:30 p.m.
McCrady's Restaurant is located at 2 Unity Alley, Charleston, S.C. 29401.
Reservations are $65 each or $100 with wine pairings.
Part of the proceeds support Good Catch at the South Carolina Aquarium.
Seating is limited so call (843) 577-FISH (3474) to make a reservation.
For all media inquiries, please contact Kate Dittloff (kdittloff(at)scaquarium(dot)org) or (843) 579-8632.
About South Carolina Aquarium Good Catch:
Good Catch generates awareness and leads communities in support of healthy fisheries and consumption of responsibly harvested seafood. The program pragmatically balances the health of the environment with South Carolina's demand for seafood by working with consumers and chefs, helping them make wise seafood choices to support healthy, abundant oceans. More than 115 restaurant partners have committed to serve and purchase sustainable seafood whenever possible and to avoid species that are immediately vulnerable to extinction. As a community, when we choose seafood from local, sustainably managed fisheries or dine at restaurants which do the same, we minimize our impact on the environment. Find the most up-to-date Good Catch partner list and more information on making good seafood choices each season at scaquarium.org/goodcatch.
About McCrady's Restaurant
Located at 2 Unity Alley in Charleston South Carolina, McCrady's Restaurant is widely considered one of the city's best fine dining establishments. Located in a historic building that was first erected in the late 1700s the current owners have maintained the property to its original grandeur. The kitchen, led by two time James Beard award winning chef Sean Brock, is responsible for the creation of delicious and innovative southern cuisine. Considered a can't miss experience by foodies all over the country McCrady's has become a staple of the fine dining scene in Charleston.
About the South Carolina Aquarium:
The South Carolina Aquarium, Charleston's most visited attraction, features thousands of amazing aquatic animals from river otters and sharks to loggerhead turtles in more than 60 exhibits representing the rich biodiversity of South Carolina from the mountains to the sea. Dedicated to promoting education and conservation, the Aquarium also presents fabulous views of Charleston harbor and interactive exhibits and programs for visitors of all ages.
The South Carolina Aquarium, a 501(c) (3) not-for-profit organization and is open daily from 9 a.m. to 5 p.m. The Aquarium is closed Thanksgiving Day, half day Dec. 24 (open 9 a.m. to 1 p.m.) and Dec. 25. Admission prices are: Toddlers (2 and under) free; Youth (3-12) $17.95; Adults (13+) $24.95. The Aquarium plus the 4-D Theater experience is free for Toddlers, $22.95 for Children, $29.95 for Adults. The 4-D Theater experience only is $6.95 for Children and Adults, and free for Members. For more information call 843-720-1990 or visit scaquarium.org. Memberships are available by calling 843-577-FISH.
###