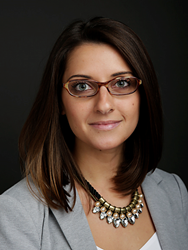 We applaud Tasha's exceptional contributions as an honoree in this year's Women of the Channel Power 50.
Crofton, Md. (PRWEB) June 01, 2015
Force 3, the network security company, today announced that Tasha Klares, Manager of Force 3's marketing team, has been named to The Channel Company's prestigious 2015 CRN® Women of the Channel, and has been recognized as one of this year's Power 50.
The annual list honors outstanding female executives across solution provider organizations prominently involved in the IT channel ecosystem for their achievements and the far-reaching impact they are having on the technology industry going forward.
This year's Women of the Channel were carefully reviewed and selected by the editors of CRN based on their accomplishments and the influence they wield over the technology channel. The Power 50 spotlights an elite subset of Women of the Channel honorees whose insight and influence in their respective companies help drive channel success.
This year, Tasha played a lead role in launching a whole new brand for Force 3. Having seen dramatic changes in their channel business in recent years, it was time for Force 3 to put a stake in the ground and declare their role as The Network Security Company to meet the continuously evolving needs of their customers. Tasha helped to build not only a new brand that does just that, but the team that made it possible. Tasha helped to rebuild Force 3's marketing department from the ground up, onboarding key personnel from the coordinator all the way up to director-level. She has also led the way in other strategic organizational changes to move Force 3's channel marketing and partner alliance programs to a more customer-centric model.
"We applaud the exceptional contributions of the honorees in this year's Women of the Channel Power 50. These executives have made a lasting mark on the industry by helping to shape the channel's future," said Robert Faletra, CEO, The Channel Company. "We are privileged to celebrate their far-reaching influence, innovation and commitment to the IT channel community."
"We could not be more proud to see Tasha recognized as one of CRN's Women of the Channel Power 50," said Mike Greaney, Force 3 CEO. "Her hard work, creative thinking and dedication are unmatched. We feel privileged to call her a member of the Force 3 team and look forward to her continued contributions to our organization and the entire IT channel."
The Women of the Channel, with expanded coverage of the Power 50, will be featured in the June issue of CRN, and online at http://www.CRN.com.
About Force 3
Force 3 is the network security company, providing infrastructure services to design, deploy, support and maintain their clients' technology needs. Their team of passionate experts includes industry leading security professionals, with the highest levels of certifications, proficiencies and experience. Force 3 boasts the only dedicated support service offering in the Federal market, ensuring optimal uptime to keep your infrastructure running efficiently. Whether an enterprise network, mobility, collaboration, data center or next-generation solution – Force 3's highly trained engineers and strategic partnerships deliver secure solutions for agencies who demand value and reliability.
About The Channel Company
The Channel Company, with established brands including CRN®, XChange® Events, IPED® and SharedVue®, is the channel community's trusted authority for growth and innovation. For more than three decades, we have leveraged our proven and leading-edge platforms to deliver prescriptive sales and marketing solutions for the technology channel. The Channel Company provides Communication, Recruitment, Engagement, Enablement, Demand Generation and Intelligence services to drive technology partnerships. Learn more at http://www.thechannelcompany.com.