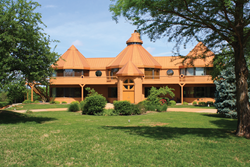 This is definitely a unique property - not just to our area - but almost anywhere
KANSAS CITY, Mo. (PRWEB) June 01, 2015
Qualified buyers will have the opportunity to purchase a unique home on roughly 245 acres of land in Lincoln County, Okla. The acreage will be sold in five separate parcels or in its entirety.
Conducted by Mike Bendele, auctioneer and broker with United Country – Mike Bendele Co., in conjunction with Ball Auction Service, the live auction will take place on-site at 900401 S. 3410 Road in Chandler, Okla. Registration for the event will begin at 10 a.m., and the auction will take place at 1 p.m. Online bidding will be made available on Proxibid.com. The property will be available by appointment.
"Our seller recognizes the value of using an accelerated method of marketing – in other words, an auction – to sell their property," Bendele said. "What does this mean for buyers? It means they have the opportunity to purchase part or all of this great Oklahoma acreage at their price. Today's market conditions and the auction format allow sellers and buyers to come to a meeting of the minds quickly with a competitively achieved fair market value. In times like these, an auction is the best way to establish what real market value is."
This approximately 5,800-square-foot home was built in 2002 and has the external appearance of a castle. The modern interior features high-end appliances, wood finishes and other stylish touches throughout.
"This is hands down one of the most solid built homes I've been in," Bendele said. "This is definitely a unique property - not just to our area - but almost anywhere."
The parcels range from about 10 to 80 acres in size and have the following features:
Tract 1: 80± acres

Wooded and rolling acreage
Ideal cabin or home site
Abundant deer and turkey
Rural water and electric available
Hilltop views
Tract 2: 10± acres and home

Two-story stone and vinyl home with three bedrooms and one bath
24x32 garage
Bermuda and native grass with scattered trees
Ideal for horses, 4-H and FFA projects
Tract 3: 50± acres with main home

Five-bedroom, six-bath unique and modern home
Sculptured block construction
Every room provides panoramic country views
Luxurious master bedroom suite
Detached garage with apartment
Multiple outbuildings (shops and equipment barn)
Two fish-stocked ponds
Tract 4: 72± acres

Great home site
Rolling woodland, grassland and private pond
Bermed gun range
Fronts Turner Turnpike for a half mile and county road for 1,600± feet
Tract 5. 33± acres

Grass and woodland
Seasonal creek
Excellent home site
Fronts both turnpike and county road for a half mile
Detailed information about the property for sale, as well as details about the auctions, can be found online at UCMikeB.bid or by calling 405-258-3876.
About United Country
United Country Real Estate – a division of the United Real Estate Group – is the leading, fully integrated network of conventional and auction real estate professionals. The company has been an innovator in lifestyle and country real estate marketing since 1925. United Country supports nearly 600 offices and 5,000 real estate professionals across four continents, with a unique, comprehensive marketing program. The exclusive program includes the highest ranked and largest portfolios of specialty property marketing websites, unequaled national print advertising, the largest internal real estate advertising agency, an extensive buyer database of more than 550,000 opt-in buyers and additional proprietary programs to advertise properties more broadly.