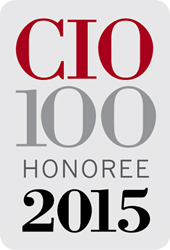 SquareTwo Financial's technology team is integral to our success and well deserving of this industry recognition. - Paul A. Larkins, president and CEO, SquareTwo Financial
Denver, CO. (PRWEB) June 01, 2015
SquareTwo Financial, a leader in the $100 billion asset recovery and management industry, today announced it is a recipient of the 2015 CIO 100 Award. The 28th annual award program recognizes organizations around the world that exemplify the highest level of operational and strategic excellence in information technology (IT).
"For 28 years now, the CIO 100 awards have honored the innovative use of technology to deliver genuine business value," said Maryfran Johnson, editor in chief of CIO magazine & events. "Our 2015 winners are an outstanding example of the transformative power of IT to drive everything from revenue growth to competitive advantage."
SquareTwo Financial's CIO 100 Award is the result of a new business initiative that is delivering innovative solutions to the business in advanced data analytics.
"This initiative has exceeded expectations and enabled us to deliver the consistent customer experience outlined by our Fair Square Promise commitment to treat customers with fairness and respect," said Paul A. Larkins, president and CEO of SquareTwo Financial. "SquareTwo Financial's technology team is integral to our success and well deserving of this industry recognition."
SquareTwo Financial was also recognized in 2012 with a CIO 100 Award. The company's IT team has garnered four international awards and one national award over the last five years.
About SquareTwo Financial
SquareTwo Financial is a leader in the $100 billion asset recovery and management industry. Through its award-winning technology, industry-leading security and compliance practices, SquareTwo Financial creates a more effective way for companies and consumers to resolve their debt commitments. Lenders in the Fortune 1000 trust SquareTwo Financial to manage their debt portfolios. In all of its recovery efforts, SquareTwo Financial is committed to delivering the FAIR SQUARE PROMISE, the company's pledge to treat each Customer with fairness and respect. SquareTwo Financial is based in Denver, Colo. Visit http://www.squaretwofinancial.com for more information.