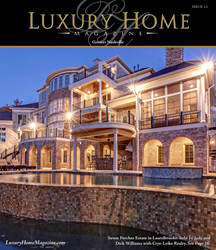 The launch of the Nashville market was as perfect as it gets
El Dorado Hills, CA (PRWEB) June 04, 2015
Luxury Home Magazine®, the largest publisher of market specific luxury real estate publications throughout North America, proudly announces the launch of Luxury Home Magazine Greater Nashville. Nashville represents the first of several new markets Luxury Home Magazine will be launching in 2015.
Luxury Home Magazine Greater Nashville's premier issue is filled with many of the area's top luxury real estate specialist who are representing the finest properties for sale in the Nashville market. Those properties, as well as the digital edition of the magazine, can be seen on the Nashville portion of LuxuryHomeMagazine.com Known for being the epicenter of country music, Nashville is truly a market that has connections to celebrities and high net worth individuals from across the world. The relaxed lifestyle and southern hospitality have made Nashville one of the premiere areas for those looking for luxury real estate.
Cameron and Alexa McGraw, Publishers/Owners of Luxury Home Magazine Greater Nashville, have been welcomed into the market with open arms. "Many of the real estate professionals that we spoke with are so excited for a magazine like ours to be here. They have been looking for some time for a way that they could showcase their listings and their brand in a highly visible luxury media outlet, Luxury Home Magazine is their solution", said Cameron and Alexa McGraw.
The addition of the Nashville market to Luxury Home Magazine's already robust portfolio of magazines, further increases the strength and reach of this nationally recognized brand. "We have a system that allows enterprising and self-motivated people like Cameron and Alexa, to debut a product and service that brings great value to places such as Nashville Tennessee", said Emile Bonfiglio, Senior Vice President of Luxury Home Magazine. "The launch of the Nashville market was as perfect as it gets, and that is a credit to Cameron and Alexa's hard work in following the LHM system." With more markets launching in the 2015, Luxury Home Magazine continues to position itself as the leader in luxury real estate market specific publications nationally. The website http://www.luxuryhomemagazine.com/opportunity will provide a step-by-step overview for individuals looking for the opportunity to own and operate a publishing/digital marketing media business.
"As we continue providing a superior market specific product that is In-Print, Direct Mailed, Online, Digital, Social and Mobile we are driven to give our Publishers more marketing and real-time information. Our goal is ultimately to be a resource to not just our Publishers, but to our clients and their clients as well. Our Team, our Vision, our Values and our Focus are the driving forces as we continue opening magazines throughout North America." said Brad Taylor CEO Luxury Home Magazine.
About Luxury Home Magazine:
Luxury Home Magazine® is a division of Sunshine Publication, Inc. / LHM Media Group. Online magazine content featuring stunning luxury homes, the finest luxury real estate and luxury real estate specialists can be found at LuxuryHomeMagazine.com. For more information: info@lhmmediagroup.com