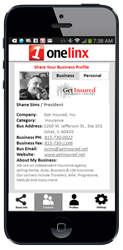 Onelinx was designed to be the easiest way to exchange and manage contact information.
Plainfield, Illinois (PRWEB) May 31, 2015
Just released for Android devices (iOS coming soon), Onelinx is an app that was created to modernize the exchange of contact information by replacing paper business card with the most efficient e-business card exchange tool. With Onelinx, users always have their business cards on hand, their contacts will always be up to date, and they will never lose an important contact again.
Main Features:

Allows for the fastest and easiest exchange of contact information with a new acquaintance.
Multiple profiles to choose from (users choose which to share; Business, Personal, Minimal or Email information only).
Changing jobs or cell phone numbers? No problem! Just update the profile in the app, and the new information automatically and instantly updates on everyone's phones.
Contact info can be shared with anyone just by getting their cell number. They don't already have to have Onelinx downloaded.
Users can easily introduce two of their contacts to each other from within the app.
Onelinx integrates with a user's native Contacts app on their phone, adding new contacts as they are received.
Unlike similar apps, there is no need to "scan" or "photograph" paper business cards. Onelinx has eliminated the need for paper business cards altogether.
Onelinx is free for the first 6-months of use, and then the app is only $0.99/year (so it can remain forever free of ads). Accounts can be deactivated at any time to stop future fees.
Onelinx was developed and released by Onelinx, Inc., 12804 Bradford Ln., Plainfield, IL 60585. For additional information, please contact Onelinx at customerservice(at)onelinx(dot)com, or by phone at 847-321-8373. President/Founder: Shane J. Sims.
Please visit http://www.onelinx.com for more information on Onelinx.
The app can be downloaded at https://play.google.com/store/apps/details?id=com.onelinx.onelinx