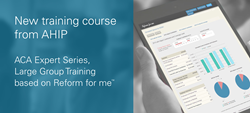 Cambia encapsulated the rules of reform into a model that powers a solution rarely found in the marketplace.
Portland, Ore. (PRWEB) June 01, 2015
Cambia Health Solutions and America's Health Insurance Plans (AHIP) announced today a new, interactive Affordable Care Act (ACA) training course to engage and support large employers. The course, called "Affordable Care Act Expert Series, Large Group Training," provides health care professionals with the strategic and consultative insights necessary to effectively engage and support large group employers as they navigate the impacts of the ACA.
The interactive, experience-based course includes:
-Real-world, ACA scenarios pertinent to large employers
-Information on the employer mandate and eligibility
-Comprehension of large employers' priorities and objectives under the ACA
-Plan design options that are ACA-compliant
-Instruction on large employer compliance and reporting
-Short, animated learning videos that summarize reform legislation
The course is currently available, and offers continuing education credits upon successful completion, and applies towards the following professional designations: Professional, Health Insurance Advanced Studies (PHIAS); and, Fellow, Health Insurance Advanced Studies (FHIAS).
The training course is based on the Reform for Me simulation platform, and provides a large employer engagement solution that focuses on helping employers understand the impact of reform on their businesses and their workforce. The Expert Series course and the Reform for Me platform provide advanced resources that health care professionals can use to support large employer groups. Together, the training course and the platform deliver the information and insights needed to better understand reform and manage ACA compliance.
"Health care reform is complex, and requires continuous education," said Mohan Nair, Cambia's SVP and Chief Innovation Officer. He continues, "Cambia encapsulated the rules of reform into a model that powers a solution rarely found in the marketplace, an e-based learning tool for reform knowledge and certification that democratizes knowledge of ACA throughout the industry. Together we can raise all boats in this journey through literacy in reform."
Learn more about the course and register here.
Learn more about Reform for Me here.
About Cambia Health Solutions
Cambia Health Solutions, headquartered in Portland, Oregon, is a health solutions company dedicated to transforming health care by creating a person-focused and economically-sustainable system. Cambia's growing family of companies range from software and mobile applications, health care marketplaces, non-traditional health care delivery models, health insurance, life insurance, pharmacy benefit management, wellness and overall consumer engagement. Through bold thinking and innovative technology, we are delivering solutions that make quality health care more available, affordable and personally relevant for everyone. To learn more, visit cambiahealth.com or twitter.com/cambia.