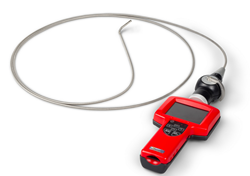 New Rigel with metal-braided probes offers outstanding precision, maneuverability, longevity and all that at a very competitive price
(PRWEB) June 01, 2015
Today, Medit, Inc., an acknowledged leader among online suppliers of reliable NDT equipment and accessories in North America and internationally, introduced new enhanced Rigel Articulating Video Borescope with rugged metal-braided probes.
"Rigel has already been among our most in-demand devices, and now with the new super rugged metal-braided probes, we anticipate even greater interest for this scope, as it offers outstanding precision, maneuverability, longevity and all that at a very competitive price," said Terry Peristerakis, Sale Manager at Medit, Inc.
Camera's Other Outstanding Features
New Rigel Articulating Video Scope is a compact, hand-held device that is now available with extra durable metal-braided probes, which increase both camera's pushability and maneuverability in the pipe, as well as prolong its high performance even after multiple cycles of inspections.
Another characteristic that enables it to easily travel past multiple obstacles in the pipe, thoroughly examining pipeline interior, is its ultimate tip angulation. Rigel's 1m (3.3') and 2m (6.5') probes articulate 180⁰ in 2 directions, while 3m (9.8') probes articulate 120⁰ in each direction, making Rigel one of the most agile viewing tools, available in the market today at such competitive price.
The probes feature highly sensitive (100,000/450,000 pixels, 60 fps@AVGA) CMOS video chip, long-lasting, adjustable LED lights and a locking mechanism that allows to fixate the tip of the probe in the desired position. All these features enable operators to capture sharp, clear, color-rich images of the tiniest defects of remote objects, areas and structures regardless of lighting conditions.
The Rigel Articulating Video Borescope is equipped with a compact, ergonomic control hub that allows operators to conduct and view inspections at a single push of a button. All inspection process can be captured as snap shots or images, viewed on a 3.5" color digital LCD (720x640 pixels) and saved to an SD memory card. The hub also has a USB slot to stream images to a laptop, and a video output to transfer them to a larger TV monitor.
The control hub works on a powerful rechargeable LI-polymer battery and features a rubber anti-slip handle for intuitive operation even in wet conditions.
The Rigel Articulating Video Borescope with metal-braided probes is available for immediate viewing and purchase at fiberscope.net.