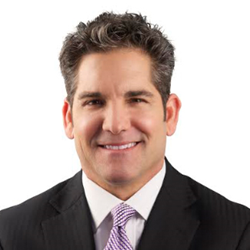 We want to express our great appreciation for Mr. Cardone's generosity in support of our Libraries program. - Rashid Anees Magsi
MIAMI BEACH, BALTIMORE & SINDH, Pakistan (PRWEB) June 01, 2015
Today Cardone Training Technologies, Inc. announced that Grant Cardone is donating his life's work to two separate community-building organizations. The Enoch Pratt Free Library, one of the oldest free public library systems in the United States, and the Mother of Civilization Library, a volunteer organization set up in Sindh Province, Pakistan. Both institutions focus on providing help and education to the underprivileged.
"Mr. Cardone has made it his goal to reach all 7 billion people on Earth and help them to achieve their dreams and goals on a level they never thought possible," said Sheri Hamilton, COO of Cardone Training Technologies, Inc.
"Cardone's inspiration comes from losing his father and older brother at a young age and seeing the difficulty his mother faced in raising her children alone," said Hamilton. "Mr. Cardone was able to rise above the economic and emotional hurdles and become successful. Having achieved a high degree of success, he decided to codify how he did it in order for others to be able to follow in his footsteps and do the same for themselves."
This humanitarian outreach by Grant Cardone is his personal way of giving equal access to information and insights on sales, marketing, branding and entrepreneurship to those who may not have the opportunity otherwise.
The recent tragedy in Baltimore is multiplying into horrific ramifications. The city is seeing its deadliest month in 40 years with a total of 43 homicides in May 2015 (1). Something needs to change and Cardone's work can influence and inspire that change.
Almost 7,300 miles away, in Dadu, a district of Sindh Province, Pakistan, catastrophic super floods have destroyed large parts of their infrastructure, including schools and libraries (2). The Serve for Noble Cause Foundation, or SNCF, has been providing social help to the local needy students by collecting books for the Mother of Civilization Library. This library is not only for children, but also benefits the entire community at large with materials that cover education's basic requirements.
Two very different places need the same solution: tools and education.
"We want to express our great appreciation for Mr. Cardone's generosity in support of our Libraries program. His assistance means so much to us but even more to those deprived underprivileged people who will receive the gift of his Books," wrote Rashid Anees Magsi, Project Manager Mother of Civilization Library.
Cardone urges people to make success their duty, responsibility, obligation, and to rise above the outdated, unworkable myths and limitations of past generations in order to achieve true freedom for themselves and their families.
Cardone, a New York Times bestselling author and internationally renown sales expert, will be sending several copies of his books, including his "Sell or Be Sold," "The 10X Rule, The Only Difference Between Success and Failure," and "The Closer's Survival Guide," along with his unique video QuickRead books and audio CDs to these libraries so that their visitors can consume his material in any way they have access to.
About Grant Cardone:
Grant Cardone is a New York Times bestselling author of four business books since the 2008 economic collapse, an international speaker, and business innovator. Cardone owns multiple companies including software and technology business, a consulting company to Fortune 500 companies and Cardone Acquisitions, a national real estate company. In September 2014, Grant Cardone launched of Whatever It Takes Network a new digital hub featuring 24/7 on-demand programming designed to offer success minded individuals the insights they need to thrive in business and life. You can follow Cardone on Twitter @grantcardone or visit http://www.grantcardone.com/
Cardone On-Demand and Cardone University were introduced in 2010 and have become industry leaders for web-based sales training. These are comprehensive sales training and sales management courses provided online with over 1100 segments of content broken into exact modules and curriculums. Cardone's online sales training universities provide sales meetings, testing, reporting, and sales solutions for every selling situation imaginable. At the start of 2013, sales organizations have viewed and tested on over 10 million videos.