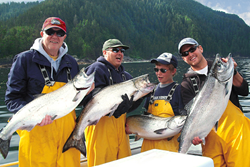 Ketchikan, Alaska (PRWEB) May 29, 2015
Waterfall Resort, the most popular fishing lodge in Alaska, is gearing up for the 2015 summer season filled with an array of action-packed activities. The 2015 calendar of events includes everything from a Father's Day Dad will never forget over Dads & Grads Days, June 21-24; a wild frontier Fourth of July Celebration, July 1-8; a multigenerational trip for the record books during Senior's Week, August 11-14, and more. The 2015 season is from June 12 to August 14.
Additionally, Alaska Airlines now has competition from other carriers providing direct service from Seattle–Tacoma International Airport (SEA) to Ketchikan International Airport (KTN), which is putting pressure on air fares for this route and benefitting all summer travelers from the lower 48.
Once guests arrive in Ketchikan, they'll take one of Promech Air's sea planes directly to the resort. Anglers of all skill levels will then embark on an expertly guided sport-fishing excursion where they have the opportunity to reel in more than twenty varieties of local sport fish such as trophy-size king salmon, silver salmon, halibut and yelloweye rockfish. Southeast Alaska's natural landscape allows for awe-inspiring wildlife encounters with humpback whales, orcas, bald eagles, black bears and more. As evening approaches, guests feast on hearty Alaskan fare and fresh seafood in the Dining Room and share fish tales at the Lagoon Saloon.
Below please find the 2015 calendar of events for guests looking to embark on the adventure of a lifetime.

King Salmon Jackpot Challenge – June 12-15, 2015
Kick-off the 2015 season with a free 3-day tournament to catch the biggest Chinook. There's no entry fee for this popular contest during peak king salmon season. Waterfall Resort has awarded more than $2MM in tournament prizes over the years.
Summer Solstice Photo Workshop – June 15-18, 2015
The natural summer sunlight lasts longer in Alaska! Enjoy this free workshop on nature photography from acclaimed instructor Peter West Carey while enjoying legendary sport fishing, late night sunsets, and incredible wildlife, forests, boardwalks and waterfalls throughout the Resort's 52 ocean-front acres!
Dads & Grads Days – June 21-24, 2015
This Father's Day (June 21), guests will participate in festivities honoring both fathers and recent graduates. Celebrate family traditions, spend quality time together on the water, bring the kids and show them how it's done.
Fourth of July Celebration – July 1-8, 2015
From sea to shining sea – experience the frontier spirit that made America great, and celebrate freedom with a fourth night FREE for stays that overlap the night of July 4th. Independence Day activities include legendary sport fishing in a historic setting, an all-American BBQ, fun games and a private fireworks show.
Waterfall Creek Salmon Run – Mid-August
Experience wildlife in all its glory – each August, the local pink salmon of Waterfall Creek swim home to spawn in the sparkling pool below the resort's namesake waterfall. Cheer them on as they dodge black bears to make their epic journey! (Note: event dates may vary based on the salmons' discretion).
Seniors Week – August 11-14, 2015
With more than 100 years of history, Waterfall Resort knows getting older has its privileges. Guests 65 and older get a special 25% off their land package. August is peak season for silver salmon (coho) and the weather is typically at its most mild. For a multi-generational travel experience, it's the perfect time bring the grandchildren.
Events are based on availability. Kids visiting Waterfall Resort should be at least 12 years of age (they'll be reeling in some big fish!). Kids 15 and under get 15% off list rates when fishing with an adult (Kids Rate may be combined with Dads & Grads Week and Seniors Week).
For more information or to book a stay, call 800-544-5125 or visit WaterfallResort.com.
About The Waterfall Group
Leaders in adventure hospitality management on land, on the water and in the air, The Waterfall Group delivers extraordinary outdoor lifestyle experiences featuring unique and scenic destinations, marine and aviation expertise, satisfying local cuisine, easy travel and warm, friendly customer service. Founded in 1980, The Waterfall Group markets, operates and supports multiple lines of business nationally from all-inclusive Alaska sport fishing lodges to sea plane tours in the Florida Keys.