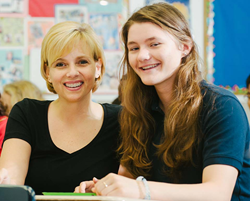 New Haven, CT (PRWEB) June 02, 2015
New Haven, CT resident, Shelby Ronan, an 8th grade student at Florida Preparatory Academy (Florida Prep) in Melbourne, Florida, has been honored as a "Duke Tip Scholar" by the Duke University TiP program. Open only to those in grades 4 through 8, Duke TiP identifies the nations most gifted and talented students and works with their families and educators to challenge, engage, and help them reach their highest potential.
In her first year at Florida Prep, Shelby qualified for the program based upon her standardized tests in 7th grade; she was identified as being in the top 5% of students across the USA. As a further requirement of the program, students are subsequently required to take either the ACT or SAT in 8th grade. Shelby's performance on the March SAT placed her in the top 45% of high school juniors and seniors, who are the traditional SAT test takers, across the country.
In addition to maintaining a year-long place on the President's List at Florida Prep and induction into the National Honor Society in May, Shelby also excels as an athlete: she has represented the school in volleyball, soccer and softball during the year, all at the varsity level.