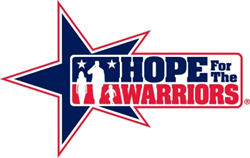 We are proud to support Hope For The Warriors®, and are inspired by the work they do for our brave service men and women, as well as their families.
Washington, D.C. (PRWEB) June 01, 2015
Hope For The Warriors® thanks the Siemens Corporation for its continued support of Hope For The Warriors® and military families. The technology company presented Hope For The Warriors® with a $22K donation from the Siemens Caring Hands Program, which mobilizes employees to donate their time and talents to worthy causes – carrying out Siemens's commitment to impact the communities in which they live and work through volunteerism. Hope For The Warriors® is a national nonprofit dedicated to restoring a sense of self, restoring the family unit, and restoring hope for our service members and our military families.
"Hope For The Warriors® is very grateful to Siemens for providing this opportunity to support our mission to its generous employees," Robin Kelleher, Hope For The Warriors® President, said. "The commitment from Siemens employees to honor our service members reflects their dedication to improving the lives of military families."
"We are proud to support Hope For The Warriors®, and are inspired by the work they do for our brave service men and women, as well as their families," said Eric Spiegel, president and CEO, Siemens USA. "At Siemens, we understand that the military training and experience veterans bring to the workforce has immense value. Through our veterans programs, we are focused on hiring and training, but we also recognize the importance of supporting the families of our nation's heroes and are honored to do so through our work with Hope For The Warriors®."
The Siemens Caring Hands Program is the company-wide effort that links employees across the country, believing that one inspired person can make a difference, but together we can change the world. The organization was established for purposes of receiving, maintaining and disbursing funds for sponsoring and encouraging charitable activities. Since 2010, Siemens has donated more than $200,000 to Hope For The Warriors® through its Caring Hands Program, in addition to participation in various activities benefitting the organization.
###
Siemens Veterans Initiatives
In April 2011, Siemens participated in the launch of Joining Forces at The White House. This initiative, helmed by First Lady Michelle Obama and Dr. Jill Biden, works to support and honor America's service members and their families. Since signing on to Joining Forces, Siemens has more than quadrupled its initial commitment, and has hired 1,700 veterans. Siemens has been named a "2015 Best for Vets" employer by Military Times, recognized for its demonstrated commitment to recruit, hire and retain qualified veterans. Siemens also received the 2012 Secretary of Defense Employer Support of the Guard and Reserve Freedom Award, the highest recognition given by the U.S. Government to employers for support of Guard and Reserve employees.
Siemens U.S. Job Training Initiative for Veterans
Siemens now offers job training for U.S. military veterans with an engineering and manufacturing background as part of a nationwide effort to assist veterans transitioning to the civilian workforce. The program, launched by Siemens product lifecycle management (PLM) software business in 22 cities across the country, provides free training in the use of state-of-the-art digital lifecycle management and computer-aided design (CAD), computer-aided manufacturing (CAM) and computer-aided engineering (CAE) software technology. Through this effort, Siemens will invest up to $17,000 per eligible veteran for access to training that will help enhance veterans' qualifications for skilled positions in a wide variety of manufacturing industries around the world, including automotive, aerospace, energy, high-tech electronics, and machinery. Upon completion of the training, veterans who participate in this initiative can also present themselves as qualified candidates for positions with Siemens or the 77,000 customers who use Siemens' PLM technology.
Hope For The Warriors® Mission Statement
We believe those touched by military service can succeed at home by restoring their sense of self, family, and hope. Nationally, Hope For The Warriors® provides comprehensive support programs for service members, veterans, and military families that are focused on transition, health and wellness, peer engagement, and connections to community resources.
Hope For The Warriors® has earned a Four-Star Rating from Charity Navigator (http://www.charitynavigator.org) for four consecutive years. Charity Navigator is an independent organization that evaluates fiscal responsibility and accountability of nonprofits.
Hope For The Warriors® (Federal Tax ID 20-5182295) is a 501(c)(3) tax-exempt charity as defined in sections 509(A)(1) and 170(B)(1)(A)(VI) of the Internal Revenue Code. Combined Federal Campaign, CFC #27800.