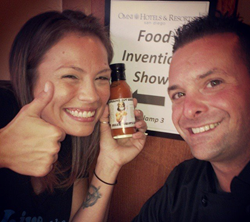 San Diego, CA (PRWEB) May 30, 2015
Four (4) of their AWESOME Hot Sauces are nominated for this year's WORLD Hot Sauce Awards. The 34 year old Original Recipe is competing for world's best "Medium" hot sauce. Sgt. Pepper is in the running for best "Louisiana-style" sauce. HummZinger with garbanzo beans is going after world's best "Hot" hot sauce, and Venom aims to take home the honors for best "Pepper Blend." Befitting of such a World Contest, this one takes place in Louisiana, the birthplace of the most time-tested style of hot sauce known today.
All four of the nominees are available at the New Simply Local of North Park located at 3013 University Ave, San Diego, CA. In addition to the nominated sauces, Daniel and Rebecca personally selected eight (8) others including their popular "Awesome Spicy Avocado" sauce. This type of hands-on approach has earned Semper Fry a reputation in their community for being a personable, down-to-earth business that is a delight to work with.
Semper Fry makes a hot sauce for musician Andy Mensing of Rat City Riot and The Smokeboss. The sauce, named The Smokeboss, was the topic of Andy's March-April 2015 EuroTour known as "The Awesome Hot Sauce Tour." Andy sold the sauce at all his venues throughout his EuroTour.
Semper Fry is a husband & wife hot sauce team in San Diego County. The product line is called "Awesome Hot Sauce." They work the Del Mar Farmers Market on Saturdays, Hillcrest on Sundays, and Imperial Beach on Fridays.
This is a veteran owned and operated company. They give military discounts to any service person whether active duty, or prior service. Their motto is, "Your time was worth something, right? Well it is here, too."
Throughout the year Daniel & Rebecca ship care packages to deployed soldiers all over the world. They say they do it to give these brave men and women a little taste of home, and remind them that, "We appreciate their commitment." Semper Fry encourages their customers to supply them with FPO & AP addresses of active duty people so they can further broaden their reach. Customers are also allowed to donate $8 if they have a specific person in mind they want to send a care package to.
The care packages are filled with samples from the ever growing product line of AWESOME Hot Sauce, some candy, personal size hand sanitizer, antibacterial wet napkins, and other miscellaneous items we too often take for granted until we no longer have them.
Daniel & Rebecca make all of their products small-batch style using local San Diego County farmers produce. They support the local farmers, and they love their community.
Daniel, the founder and sauce creator reflects,"I, like many in the state, am a transplant. I was born in Syracuse, NY and I grew up in a little town called Stillwater. My graduation class of 1997 only had 68 students capped and gowned. The closest landmark was the Saratoga Battlefield located just up my road.
I came to San Diego by way of the US Coast Guard Cutter Alert. I was stationed on this boat back in 2000-2002. We would leave our home port in Astoria, Oregon and stop in San Diego to refuel. I fell in love with it (San Diego). In 2011 I moved here and used my job as a Union Electrician to fund the business Rebecca and I run today.
You needn't be born here to love it. I feel a strong connection to the community, the ocean, and nature from my experiences in San Diego County. SEMPER FRY, LLC isn't some big corporation. It's my beautiful wife Rebecca and myself working our butts off to bring you, our customers, the very best tasting, healthiest hot sauce possible. We do it with love for our craft, and that shines through into everything we do. From our labels to the ingredients, to the sauces themselves, true passion to be the best is clear to see."
In addition to making sauce, Rebecca designs all the marketing material, shipping boxes, envelope stuffers, menus, displays, and she does the layouts for each of the product labels.
Semper Fry, LLC stands as a testament to the American Dream. They have cultivated a dedicated following in San Diego because as Dainel puts it, "We support the success of those around us. There's enough for everybody. As Rebecca says, 'Your success is our success."
Daniel & Rebecca were invited to audition for the Food Inventions Show, and in the next year are building a "Returning Soldier Fund" Non-Profit to help soldiers and families affected by combat.
To learn more about the company, and for the complete line of AWESOME Hot Sauces, visit http://www.semperfryllc.com
Wholesale pricing is available upon request. Sign up for their Spam-Free newsletter, and keep apprised of the upcoming events, including a FREE Smokeboss concert being held at Simply Local North Park.