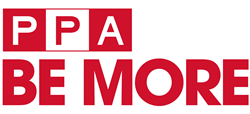 ATLANTA, Ga. (PRWEB) May 31, 2015
Professional Photographers of America (PPA) is offering gifts to photographers who join through the end of June 5.
"We think joining PPA is a no-brainer," said Kristen Hartman, director of member value and experience. "It's actually proven to cost more to run your business without PPA behind you—we just wanted to make joining a little sweeter. Whether you're looking for inspiration, education, or networking, with PPA you'll find the tools to help you Be More."
Photographers get to choose between a FJ Westcott Medium Apollo Soft Box, a Tenba Switch 8 Camera Bag and a LumiQuest Strobist® Kit.
For only $27.92 per month, PPA membership includes 1,100+ streaming videos through PPAedu and PhotoVision, up to $15,000 of Equipment Insurance and a one-of-a-kind malpractice protection, plus new members get a registration to Imaging USA as part of their first-year membership dues. The promotion is valid only for new Professional Active members, based in the U.S.
Photographers can join today at PPA.com/GetMyGift or call 800.786.6277.
About PPA:
Professional Photographers of America (PPA) is the largest international nonprofit association created by professional photographers, for professional photographers. Almost as long-lived as photography itself, PPA's roots date back to 1869. It assists more than 28,000 members through protection, education and resources for their continued success. See how PPA helps photographers be more at PPA.com.