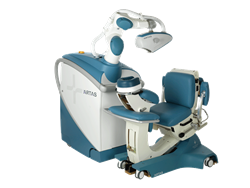 The use of a variety of methods adds to the viability of the grafts, increases the numbers of grafts that could be harvested in one session and enhances the efficiency of the hair transplant procedure. - Parsa Mohebi, MD
Los Angeles, CA (PRWEB) May 29, 2015
The science of hair restoration has taken a giant leap forward in Los Angeles thanks to the efforts of internationally recognized hair transplant surgeon Dr. Parsa Mohebi. Dr. Mohebi has combined ARTAS hair restoration and manual FUE techniques to offer patients the most advanced hair restoration procedures available anywhere.
A Follicular Unit Extraction (FUE) is the process of directly and individually harvesting hair follicle grafts from the donor areas of a patient. The individual harvesting of hair prevents the need to remove an entire strip of skin that will leave a linear scar on a patient's scalp. The expert staff at Parsa Mohebi Hair Restoration has greatly improved the procedure with the use of the ARTAS System. ARTAS is one of the most advanced techniques currently in use in the field of FUE. The ARTAS System utilizes an image-guided robotic arm and special imaging software to harvest follicular grafts on a precise individual basis (r-FUE).
ARTAS uses several cameras that allow for microscopic video images of the patient's follicular units to be captured. The ARTAS System uses the images to identify the donor hairs on the back and sides of the scalp. The hairs are easily identified thanks to the 3D microscopic camera of the ARTAS System.
While the combination of methods not only makes for a more effective transplant, it also makes for a painstaking and precise procedure. Dr. Mohebi said, "I choose to use a combination of methods in most procedures done at my practice. The use of a variety of methods adds to the viability of the grafts, increases the numbers of grafts that could be harvested in one session and enhances the efficiency of the hair transplant procedure."
The combination of the advanced technology of the ARTAS system and an artistic manual approach to hair restoration procedures makes r-FUE/Manual hair restoration one of the safest and most precise hair restoration methods available to the public.
About Dr. Parsa Mohebi:
As former chairman of the FUE Research Committee and creator of several methods and techniques in modern hair restoration, Dr. Mohebi, along with his incredible staff, provides the most advanced techniques in the industry. Dr. Mohebi prides himself in advancing new research and developing the latest technology to improve the quality of hair restoration. The overall goal at his office is to restore patient's self-esteem through the use of quality hair restoration techniques.