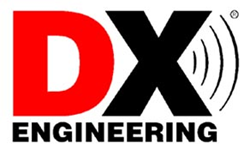 Tallmadge, OH (PRWEB) June 03, 2015
DX Engineering now carries cleaning products from CAIG Laboratories, including CAIG's famous DeoxIT spray. These solutions are specially formulated to be safe and effective on precision telecommunications equipment, which is why they're commonly found in professional workshops.
CAIG's DeoxIT D5 can be used to rejuvenate a well-used piece of gear. When sprayed on electrical contacts, it dissolves oxidization and other corrosion to improve conductivity. DeoxIT also fills in microscopic gaps and reseals metal surfaces to create a better area for electrical conductivity. The formula's restorative properties make it an excellent choice for improving connectivity in cartridge slots and connector receptacles. In RF applications, DeoxIT will reduce arcing, RFI, wear and abrasion.
Though it works quite well on gold-plated connectors, CAIG's G-Series spray is also effective as a preventative treatment for terminals on any new piece of gear before it goes into service. The G-Series formula protects both the surface and base metal of electrical contacts, and is a smart way to proactively fight corrosion.
For less-precise electrical applications, CAIG makes an economical Contact Cleaner Wash. It can be used liberally on switches, relays, contacts and connectors to improve electrical connectivity. Contact Cleaner's budget-friendly price makes it a great option for cleaning and maintaining mobile stations and antenna farms.
CAIG Laboratories cleaning solutions can be purchased individually or in a handy Survival Kit that bundles everything an Amateur Operator will need to clean a station's worth of gear.
DX Engineering
http://www.DXEngineering.com
1-800-777-0703