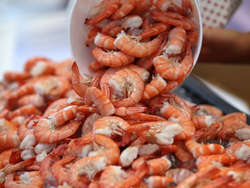 Allenhurst, New Jersey (PRWEB) May 29, 2015
Jersey Shore businesses are gearing up for several seafood festivals attracting guests all month long including: New Jersey Seafood Festival in Belmar, New Jersey, Tuckerton Baymen's Seafood & Music Festival at Tuckerton Seaport, New Jersey and Bradley Beach Lobster Festival in Bradley Beach, New Jersey. Read below for more information on each event.
Thousands of seafood lovers will be attending the annual New Jersey Seafood Festival featuring over 40 seafood vendors, a beer tent and wine garden, children's activity tent and live music. The festivities begin at Silver Lake Park in Belmar, New Jersey on Friday, June 12th at 4:00 pm until Sunday, June 14th at 6:00 pm. Admission is free; a shuttle will be available from the marina and train station.
Dive in to fresh clams, scallops, crabs and shrimp at Tuckerton Baymen's Seafood & Music Festival on June 20th and 21st. From 11:00 am to 5:00 pm, guests can enjoy micro brew court, craft vendors, music, family activities, demonstrations, boat rides and more. Admission is $8 for adults, $6 for seniors and $5 for children.
Also be sure to visit the Bradley Beach Lobster Festival on June 27th and 28th including more than 100 vendors, two beer and wine gardens, live music and a deejay.
For more information, visit http://www.app.com/story/entertainment/dining/2015/05/27/seafood-festivals/27584639/.
About Bielat Santore & Company
Bielat Santore & Company is an established commercial real estate firm. The company's expertise lies chiefly within the restaurant and hospitality industry, specializing in the sale of restaurants and other food and beverage real estate businesses. Since 1978, the principals of Bielat Santore & Company, Barry Bielat and Richard Santore, have sold more restaurants and similar type properties in New Jersey than any other real estate company. Furthermore, the firm has secured in excess of $500,000,000 in financing to facilitate these transactions. Visit the company's website, http://www.123bsc.com for the latest in new listings, property searches, available land, market data, financing trends, RSS feeds, press releases and more.