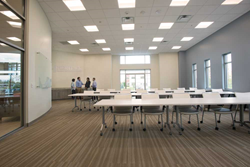 Frederick, MD (PRWEB) June 02, 2015
Heritage Training and Shooting Center is excited to announce that it will be opening its doors full time on Wednesday, July 1, 2015 from 9 a.m. to 9 p.m.
Community members are invited to visit the facility at 4537 Metropolitan Court in Frederick to tour the space and schedule time on the shooting range. Guests will also be able to sign up for various classes and visit the firearm retail store from 11 a.m. to 7 p.m.
Waynesboro Construction began working on this project on July 10, 2014, and after less than a year, construction is finalized and Heritage Training and Shooting Center has obtained full occupancy of the facility. The building, which was constructed in 2008 and never occupied, has been transformed to house this unique business. Major aspects of the fit out included building a steel and concrete ballistic envelope surrounding the shooting range and installing a state-of-the-art air filtration system, among many other significant upgrades.
For those who cannot wait until the grand opening in July, Heritage will be offering several open house events throughout the month of June. Events will be announced through Facebook, Twitter, and Instagram. Those interested can also sign up for Heritage email updates on the website to get exclusive offers and information.
Heritage Training and Shooting Center will be open 12 hours a day, seven days a week, and 365 days a year to provide maximum opportunities for visitors to learn in our classroom, spend time on our shooting range, and shop in our retail store. For more information, visit http://www.heritagetrainingcenter.com.