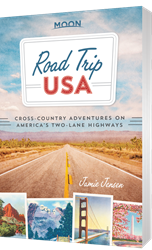 Visit moon.com/roadtrip or roadtripusa.com for more tips on how to how and where to road trip this summer.
Berkeley, CA (PRWEB) June 03, 2015
Summer is road trip season, and the planning process starts now. Thankfully, Moon Guides has four 2015 full-color titles to help you see the best of the US and beyond. Moon Pacific Northwest Road Trip, Moon Florida Road Trip, Moon California Road Trip, and Moon Blue Ridge Parkway Road Trip offer detailed driving routes, including mileage from place to place, driving times, and the greatest places along the way to eat, sleep, and explore. Here are Moon's top travel tips for road trippers.
1. Bring a guidebook or a map. GPS and phone service become less reliable when taking the roads less traveled. Avoid major delays by having preplanned routes accessible on paper.
2. Have a killer playlist. The soundtrack to your summer should be planned in advance (you never know when radio reception could cut out). Check out the Moon Guides Spotify channel for song suggestions based on region!
3. Keep a running list of road trip games to play when the scenery isn't enough to keep passengers' attention. "I Spy," license plate games, and "Name that Tune" are all crowd pleasers, but making up games on the spot can be even more fun.
4. Take lots of pictures. Any road trip can be a once-in-a-lifetime experience, and passengers will want those memories to look back on later.
5. Make sure to pack a phone charger that is compatible with your car's power source. Keeping your phone fully juiced is key to a successful road trip.
6. Join AAA or another roadside rescue service. Every road trip comes with roadblocks, and they might arrive in the form of a flat tire or an overheated engine. Best to be prepared!
7. Anticipate traffic and tricky roadways. For example, drivers don't want to end up hugging the cliffs of the Pacific Coast Highway on a foggy night. Nor do they want to hop on the long bridges of Key West on a Friday during rush hour. Consult one of the aforementioned Moon Guides for more practical driving tips.
8. Bring cash, and keep it somewhere safe in the car. Don't overdo it, but plan to cover tolls, parking, and payphones (just in case). A small stockpile of quarters and small bills will come in handy.
9. Keeping healthy and hydrated on the road is essential. Bring refillable water bottles (not the disposable plastic ones that can melt or warp in the car). For cheap eats in a pinch, buy snack bars and trail mix in bulk before setting out.
10. Leave wiggle room! Keep the schedule relatively flexible to allow for spontaneous pit stops. If a backseat driver spots a zany billboard advertising the world's largest ball of yarn, don't feel guilty about taking the time to marvel at that enormous yarn ball's majesty.
For more tips on where and how to road trip this summer, visit moon.com/road-trip or roadtripusa.com.
Win a complete Road Trip guidebook library and an essential road travel kit, including a one-year AAA Plus Membership, to keep drivers and passengers safe and happy on the road. Enter to win and listen to classic road trip tunes at moon.com/roadtrip.
About Moon | Moon.com
Moon travel guidebooks are published by Avalon Travel, a member of the Perseus Books Group. Moon was founded by Bill Dalton in 1973 with the publication of his own legendary Indonesia Handbook, soon followed by handbooks to Japan, the South Pacific, and Arizona. Today, Moon specializes in guides to the United States, while also publishing books on Canada, Mexico, the Caribbean, Latin America, Europe, Asia, and the Pacific. The Avalon Travel office is in Berkeley, California, and our authors call places all over the world home. You can visit our website at moon.com.