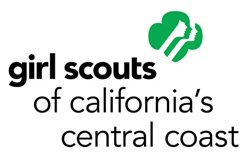 Ventura, CA (PRWEB) May 29, 2015
Girl Scouts of California's Central Coast today announced its 2015-2016 Board of Directors elected at the council's April 25 annual meeting in San Luis Obispo.
Representing six counties along California's Central Coast, the 2015-2016 Board of Directors include:
OFFICERS
•Board Chair - Tammie Helmuth, CEO/President, Conejo Awards
•Vice Chair - Ryan Van Ommeren, Associate Vice President, California Lutheran University
•Secretary - Crystal Evans, Marketing Analyst, Conejo Valley Veterinary Hospital
•Treasurer - Ashley Ogden, Commercial Assistant Relationship Manager, Umpqua Bank
MEMBERS-AT-LARGE
•Dwayne Carey, Manager in Compliance Risk Services Group at CNM LLP; CPA
•Hayley Civian, Homemaker, Lifetime Girl Scout, Girl Scout Gold Award Recipient
•Kiesha Frost, Director of Community Giving & Marketing, United Way of Santa Cruz County
•Lupita Renteria-Galvan, Human Resource Benefits Manager, Ocean Mist Farms
•Kalpana Iyer, Technology Services Consultant, Bank of America
•Mark P. Lisa, Chief Executive Officer, Twin Cities Community Hospital
•Judy Mavroleon, Chief Administrative Officer, Academy Leadership; CPA
•Katherine Punteney, Ed.D., Program Chair, Asst. Professor of International Education Management at MIIS
•Maria Sanchez, Host, The Maria Sanchez Show
•Genevieve Evans Taylor, Ed.D., Chief of Staff to the President at California State University, Channel Islands
"We're thrilled to have such a strong group of diverse, skilled community leaders serving on our new Board," said Gina Jaeger, Chief Executive Officer of Girl Scouts of California's Central Coast. "The combined breadth of expertise of these business, academic and non-profit professionals will be invaluable to guiding the strategic priorities of the council as we seek to make it possible for every girl to benefit from the amazing programs Girl Scouting offers along the central coast."
ABOUT GSCCC
Girl Scouts of California's Central Coast serves over 10,700 girls across six counties and is committed to making the Girl Scout Leadership Experience available to girls in ways that impact their lives both in the moment and into the future. Girls participate in troops, individual projects, council events, day camps and more. A variety of leadership, outdoor experience, and Science, Technology, Engineering and Math (STEM) based programs and events provide girls with opportunities to grow while having fun. To join or volunteer in Santa Cruz, San Benito, Monterey, San Luis Obispo, Santa Barbara or Ventura county, visit: http://www.girlscoutsccc.org.