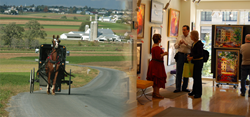 Lancaster Country Club will host the world's best female golfers during the 2015 U.S. Women's Open, July 6-12.
Lancaster, Pa. (PRWEB) May 29, 2015
As summer gets underway, the many attractions and activities of Lancaster County, Pa., should be on the minds of countless travelers for both expected and unexpected reasons.
The area is famous for the nation's original Amish community, varied outlet shopping, and tasty family-style meals, but it also boasts numerous recreational outlets, outstanding arts and entertainment, fine dining and shopping, charming towns including hip Downtown Lancaster, and upscale lodging options.
Not surprisingly, then, the local tourism group is now known as Discover Lancaster, a name which naturally encourages visitors to discover everything that Lancaster has to offer – the Amish and beyond.
All this, plus several new offerings as well:
-- The North Museum of Natural History & Science has undergone a major overhaul, led by the very cool SciDome XD Theater.
-- Just in time for the 2016 Presidential race (yes, really) is the fun, Amish-inspired production of "Josiah for President" at Bird-in-Hand Stage, through November 28.
-- Lancaster Country Club will host the 2015 U.S. Women's Open, July 6-12, so come see the best female players in the world, then tee it up at one of the area's fine public courses, like Crossgates in Millersville, Foxchase in Stevens, or Hawk Valley in Denver.
-- Dutch Wonderland, one of the world's top five children's amusement parks according to Amusement Today and a Lancaster icon, has added the new Bon Voyage Balloon Chase ride this year, fresh on the heels of last summer's opening of dinosaur-themed Exploration Island and its featured interactive Dino Dig area.
-- Get a chance to touch a part of Lincoln's past as part of the new "1865" exhibit at Landis Valley Village & Farm Museum.
-- This year marks the 30th anniversary of the release of the movie "Witness." Take a late afternoon buggy ride through picturesque Amish farmlands or chat for a bit at an Amish-run roadside stand, and you'll understand why the film continues to captivate folks year after year.
-- Travel back over 100 years ago, "before the movies," to delight in the spellbinding drama, humor and antics of a traveling showman and his spectacular projected images with the new Magic-Lantern Shows at the Amish Experience, from June 26.
Lancaster is much more than a daytrip, so plan to stay over, and what better way than at any one of the area B&Bs that just received a TripAdvisor® Hall of Fame award for earning a "Certificate of Excellence" five straight years: 1777 Americana Inn; Airy View B&B; After Eight B&B; Apple Bin Inn; The Artist's Inn & Gallery; Australian Walkabout Inn B&B; B.F. Hiestand House B&B; Harvest Moon B&B; Historic Smithton Inn; The Hurst House B&B; King's Cottage B&B; and Lovelace Manor B&B.