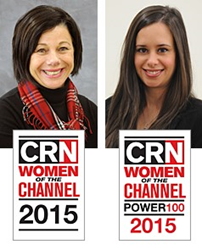 I look forward to more successes as they continue to grow our channel reach
Chicago, IL (PRWEB) June 01, 2015
Tripp Lite, a world-leading manufacturer of power protection and connectivity solutions, today announced that Michelle Wang, Director of Marketing-U.S. Channel, and Nancy Czlonka, Director of Sales-U.S. Distribution, have been named to The Channel Company's prestigious 2015 CRN® Women of the Channel, and Wang has also been recognized as one of this year's Power 100. The annual list honors outstanding female executives across vendor channel organizations, distributors, solution providers and other women prominently involved in the IT channel ecosystem for their successes and the far-reaching impact they are having on the technology industry going forward.
This year's Women of the Channel were carefully reviewed and selected by the editors of CRN based on their accomplishments and the influence they wield over the technology channel. The Power 100 spotlights an elite subset of Women of the Channel honorees whose insight and influence in their respective companies help drive channel success.
Over the last year, Wang has led her U.S. channel marketing team in the implementation of a program designed to help partners generate new business. The team has focused on partner education to help partners more effectively sell and market Tripp Lite products. Among other initiatives, Wang and her team have increased the number of tools and resources that are available to partners, such as enhanced website content, online educational tools, and product trainings. Tripp Lite's channel business grew significantly in 2014, and Wang's team was an integral part of that growth.
Working with all facets of the channel, Czlonka has led her U.S. sales team in initiatives to grow sales and build strong relationships with Tripp Lite partners. Under Czlonka's leadership, her team has focused on selling complete data center solutions, including power protection, power distribution, custom racks, and connectivity products. In 2014, the distribution channel that Czlonka manages experienced notable growth.
"These executives have made a lasting mark on the industry, expanding the breadth of influence in the technology channel," said Robert Faletra, CEO, The Channel Company. "We congratulate the Women of the Channel, and celebrate their innovative contributions and commitment to the IT channel community."
"I am proud to have two of our team members named to the CRN Women of the Channel list," said Bob Nahorski, Tripp Lite Executive Vice President-U.S. Channel Sales, "Michelle and Nancy have led their teams in building stronger relationships with our channel partners and making a positive impact on our business. I look forward to more successes as they continue to grow our channel reach."
The Women of the Channel will be featured in the June issue of CRN, and online at http://www.CRN.com.
About Tripp Lite
Outstanding product reliability and exceptional service have been Tripp Lite trademarks for over 90 years. Tripp Lite´s innovations include the world's first UPS system designed specifically for personal computers, and the world's most trusted premium surge suppressor—the Isobar®—with more than 19 million in use. Tripp Lite maintains the highest level of ready-to-ship inventory in the industry with more than 3,000 different products, including UPS systems, rack systems and cooling solutions, PDUs, PowerAlert software for enterprise-level system management and control, surge suppressors, KVM switches, cables and connectivity products, inverters, power strips and notebook accessories. Headquartered in Chicago, Illinois, Tripp Lite maintains a global presence with fully staffed offices worldwide. Additional information, including a list of Tripp Lite's sales offices and authorized reseller partners, can be found by visiting Tripp Lite's website: http://www.tripplite.com.
About The Channel Company
The Channel Company, with established brands including CRN®, XChange® Events, IPED® and SharedVue®, is the channel community's trusted authority for growth and innovation, For more than three decades, we have leveraged our proven and leading-edge platforms to deliver prescriptive sales and marketing solutions for the technology channel. The Channel Company provides Communication, Recruitment, Engagement, Enablement, Demand Generation and Intelligence services to drive technology partnerships. Learn more at http://www.thechannelcompany.com.