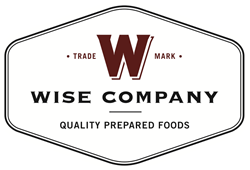 Wise products maintain some of the highest standards in the long-term food packaging industry.
Salt Lake City, UT (PRWEB) June 03, 2015
Wise Company, a leading supplier of reliable, easy-to-make and extremely affordable dehydrated and freeze-dried foods for emergency, long-term storage and camping usage, recently released results of a study conducted by Silliker Labs, on the Metallyte barriers used in Wise products. The results highlighted that Metallyte provides an unprecedented amount of protection against moisture and oxygen, ensuring that Wise products maintain some of the highest standards in the long-term food packaging industry.
In order to prevent a food item from spoiling during storage, it is vital that the item's packaging provide adequate protection against moisture, heat or air exposure. If a food item is exposed, its shelf life will rapidly decline, therefore increasing the chance for spoiling to occur. Many long-term food competitors utilize inferior metallic foils as a barrier to protect against air or moisture exposure. It is vital that the barrier is puncture and flex-crack resistant in order to prevent any unfortunate breaches. Wise utilizes Metallyte barriers, supplied by Wise Company's packaging partner ExxonMobil, which are performance-enhanced and environmentally safe metalized-oriented polypropylene films. According to ExxonMobil, when Metallyte is used in place of standard aluminum foil the benefits include an overall weight reduction of 15 percent, as well as a general reduction in solid waste, GHG emission and energy consumption.
Wise Company partnered with Silliker Labs to further test their pouch packages that use Metallyte. Silliker examined a number of Wise Company's products, testing for oxygen levels within each package: the tests revealed that most of the products had an average oxygen level of 0.28 percent. In comparison, Mountain House, another provider of long-term storage foods, published test results that showcased average oxygen levels of 1.42 percent inside their sealed products. Wise Company's products, which are made with high-quality ingredients sourced in the U.S.A., maintain some of the highest standards within the food storage industry concerning moisture, heat and oxygen exposure.
For more information about Wise Company, or to learn more about the company's products or its usage of Metallyte, please contact Mike Malmrose, director of digital marketing, at 801-383-1353 or by emailing him at mmalmrose@wisecompanyus.com.
About The Wise Company
The Wise Company, based out of Salt Lake City, Utah, is a leading provider of high-quality, long-term food kits, emergency food kits, dehydrated or freeze-dried food items for camping, long-term-storage or emergency purposes. Many of the company's prepared foods can last for up to 25 years and Wise Company's products have been featured on a number of television channels, including The Weather Channel, the Outdoor Channel and the American Heroes Channel (formerly the Military Channel). For more information please visit http://www.wisefoodstorage.com.