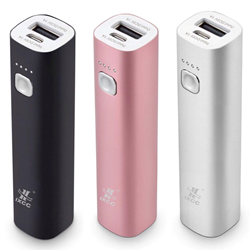 Extremely affordable and good charge rates.
Redmond, WA (PRWEB) June 01, 2015
Popular consumer electronics online retailer iXCC® has set the bar high with the introduction of its 3200mAh portable power bank with built in ChargeWise™ technology. The mini-sized battery charger has an impressive sleek design and the power and speed unmatched by similar power banks on the market today.
Built using LG Premium Lithium battery cells, the charger is made to be powerful and efficient with little energy loss during the charging process. One full charge of a smartphone using this charger adds the equivalent of 14-plus hours of talk time or 10-plus hours of web browsing. With convenient energy level LED light indicators, users can easily see how much power is remaining in the charger.
iXCC® has gone a step further ensuring that the power bank is not only powerful and efficient, but also smart. With exclusive ChargeWise™ technology, it automatically detects the attached device and regulates the power output and USB signal to ensure the optimum charging speed.
With a modern polished-metal design and three distinct color choices (black, pink,silver), iXCC® has made a product that will definitely appeal to a wide range of consumers looking for performance and style.
iXCC® is a celebrated brand by 8Likes Inc, an established company in electronic accessories. The brand, iXCC®, specializes in developing and creating innovative and highest quality accessories for mobile phones and tablets. All iXCC® chargers meet the quality standards as set by the company with regards to its design and make and are backed with manufacturer warranty service in the United States.
To learn more about iXCC® ChargeWise™ technology, please visit http://ixcc.com/chargewise/.