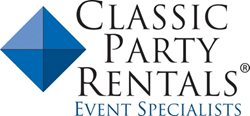 Los Angeles, CA (PRWEB) June 01, 2015
Classic Party Rentals, the nation's leading event rental and services provider known for having the largest breadth of tenting inventory in the nation, has acquired a new Arcum tent product line. The Arcum tents are visually stunning and sophisticated tents curved in structure and designed for longevity and durability with the look and feel of a premium event space.
"Our clients know that we can deliver almost any top of the line tenting option on the market," says Brent Mumford, CEO of Classic Party Rentals. "The Arcum style is an exciting addition for us. It is in keeping with our priority to innovate with fresh inventory and a broad array of solutions for our customers."
The tents, which come in various sizes from 3 to 30 meters, are architecturally contemporary and functional for various event uses including weddings, sporting events, exhibitions and many more. The styling of the Arcum allows them to accommodate vinyl and glass walls, register panels for temperature control, and hard wall as well as inter-connectivity to multiple tent structures via marquee walkways.
Coming off of signing a six-year deal to be the exclusive tenting and flooring provider for the PGA of America, Classic Party Rentals will provide sports enthusiasts with an enhanced hospitality experience by replacing curved beamed structures used at their championships with Arcum tents.
About Classic Party Rentals
As the nation's leading event rentals and services provider with over 25 locations, Classic Party Rentals is the backbone for more than 150,000 events and celebrations per year. Their network of over 2,000 award winning event professionals is renowned for providing exceptional client services with a fresh and innovative approach to handling the most important events in the country. Boasting over 9 million choices from an unparalleled range of inventory that includes exclusive furniture, china, specialty linens, lighting, heating, flooring, tenting and more, Classic Party Rentals creates events that define the most remarkable moments in time. For more information, please visit http://www.ClassicPartyRentals.com.