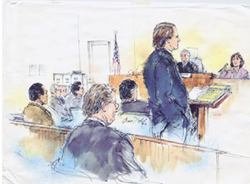 Greenwich, CT (PRWEB) June 02, 2015
The New York Law Journal publishes an annual report on the top verdicts, broken down by practice area, rendered each year. In 2014, Ivey Barnum & O'Mara, LLC was recognized for obtaining a top verdict in the premises liability category for their client, the Estate of Russo-Carriero.
Attorneys John Q. Kelly and Mark J. Schnitzler presented evidence over the course of three weeks to demonstrate that the City of White Plains had failed to properly secure or protect the parking garage adjacent to the Galleria Mall, where Mrs. Russo-Carriero was assaulted and killed walking to her parked car in late June, 2005. After three days of deliberations, the jury returned a verdict in favor of Mrs. Russo-Carriero's estate in the amount of $1,983,000 for her conscious pain and suffering and wrongful death.
Ivey, Barnum & O'Mara, LLC is a full service law firm, the largest Greenwich, CT based firm with additional offices in New York City and New Canaan, CT. The attorneys in the Personal Injury/Wrongful Death group benefit from access to and input from other attorneys in the firm with expertise in related practice areas such as Trust & Estate Planning, Real Estate, Corporate Law, Bankruptcy and Civil Litigation.
Visit our Personal Injury website at - http://www.ibopersonalinjurylawyers.com