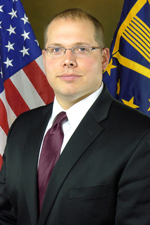 Gennaro began his career with VA in 1997 in the Research Foundation at the Cincinnati VAMC
Cincinnati, Ohio (PRWEB) May 29, 2015
John A. Gennaro, FACHE, MBA, MHSA -- Brings Leadership, Proven Experience to Cincinnati
The Department of Veterans Affairs (VA) is pleased to announce the appointment of John A. Gennaro as the new director of the Cincinnati VA Medical Center (CVAMC). Gennaro will oversee delivery of health care to more than 43,000 unique Veterans annually and an operating budget of over $387 million.
With over 2,000 staff, CVAMC is a two-division campus located in Cincinnati, Ohio and Fort Thomas, Kentucky serving seventeen counties in Ohio, Kentucky, and Indiana with six community based outpatient clinics (CBOC) located in Bellevue, KY; Florence, KY; Lawrenceburg, IN; Hamilton, OH; Clermont County, OH and Georgetown, OH.
Gennaro began his career with VA in 1997 in the Research Foundation at the Cincinnati VAMC. He then moved to the Louis Stokes Cleveland VA Medical Center, where he held various positions of responsibility, and since has held various progressive leadership positions within VA. In February 2012, he was appointed to serve as the director for VA Butler Healthcare in Butler, PA. Gennaro has also served as the Deputy Director at the VA Pittsburgh Healthcare System and Associate Director at the Erie, PA VA Medical Center.
Gennaro received his bachelor's degree in natural sciences and master's degrees in business administration and health care services administration from Xavier University. He is a fellow in the American College of Healthcare Executives and serves on the Board of Directors for the YMCA.
The Cincinnati VAMC is a clinical referral facility for Southwest Ohio. It is an affiliated teaching hospital, providing a full range of patient care services, with state-of-the-art technology, medical education and research. CVAMC provides comprehensive health care through primary care, dentistry, specialty outpatient services and tertiary care in areas of medicine, surgery, psychiatry, physical medicine and rehabilitation and neurology.
The facility is the VISN 10 referral site for neurosurgery and a regional referral center for PTSD, and is also a leader in providing active robotic surgery program for urologic procedures as part of a regional urology program within VISN 10, introducing acute care surgery service providing in-house attending coverage 24 hours a day, 7 days a week, Tele-ICU. In addition, CVAMC is a site for VA's national program in Infectious Diseases.