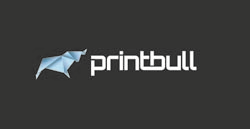 It gives the printer a chance to expand business with current clients and attract new clients with the benefits of 24/7 ordering access, brand control, and easy project visibility."
Philadelphia, PA (PRWEB) June 04, 2015
PrintBull offers a cloud-based, print ordering management solution specifically designed for the print industry. It's designed to increase productivity and customer satisfaction with a simple web-based tool developed to make it easier for print customers to order from printers without breaking the bank.The marketplace for print service providers isn't what it used to be. Like all other industries, the Internet has changed the way everyone does business. Customers are more self-reliant, better informed, and more conditioned to use web-based tools as much as possible to reduce the time necessary to exchange emails and telephone calls. At the same time, they're more demanding and expect an easier experience when doing business with their vendors. They want immediate results and updates. They want to be more hands on in the process. They still want personalized attention, but in a different way. To meet the changing customer needs, print companies have to modernize their service offering and embrace technology or fall behind. To gain a competitive advantage beyond "lowest price," printers need to create convenient ways for customers to do business on their terms, at anytime.
"PrintBull was designed with a specific market in mind. The print industry has had to adapt to changing times and customer buying behaviors. We saw where this could be challenging for many print providers and focused our efforts on giving them a customizable and affordable solution. " said Mike Lees, Director of Print Management Solutions. "It gives the printer a chance to expand business with current clients and attract new clients with the benefits of 24/7 ordering access, brand control, and easy project visibility."
Andrew Hanlon the president of PrintBull remarked "PrintBull offers more than just self-service print portals, the real fire power behind the web solutions company is the team of specialists and consultants who are there to guide the print providers throughout the process, supply tech support to the users, and become a valued partner who aids in business development."
About PrintBull
PrintBull is the brainchild of Hanlon Creative, an interactive branding agency outside of Philadelphia Pennsylvania. After working with the marketing departments of large corporations, government organizations and small businesses for over a decade, Hanlon Creative was acutely aware of the challenges facing the print industry. The need for the print industry to more effectively service customers in order to stay relevant in an ultracompetitive marketplace was the driving force behind the development of PrintBull.
Working directly with printers and print customers, Hanlon Creative identified the most essential elements of brand control, efficiency and consistency when ordering printed materials. Then we developed our own modular, self-service, customer print portal to include these elements and deliver the ultimate customer experience.
For more information please visit PrintBull.com