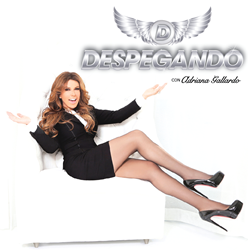 Adriana Gallardo, one of the most successful Latina business women in the U.S., will grant a total of US $500,000
(PRWEB) May 31, 2015
Despegando con Adriana Gallardo, a new reality show that aims to help and inspire Latin entrepreneurs. The creator of the show, Adriana Gallardo, one of the most successful Latina business women in the U.S., will grant a total of US $500,000 to help the contestants achieve their business and/or personal goals. The new reality show will stream online at Despegandoshow.com, with a new episode airing each Wednesday. The first case will stream this coming Wednesday, June 3rd. In every episode, Adriana teams up with a group of experts who evaluate each case and provide the necessary tools to the contestants so they can achieve their ultimate goal.
This is not just a reality show, this initiative is a plan to support all Latinos who want to move forward with their business ideas and achieve their dreams; this is a space for the Latino community in the United States to witness the stories of their people, and realize how with the right resources and support, the most ambitious plans and dreams can become a reality.
Adriana Gallardo is one of the most successful Latina businesswomen in the U.S. Adriana created her own insurance company, Adriana's Insurance, which has over 50 offices in Southern California, one of the largest companies of its kind. Adriana also founded Resulta2 Media Group her own advertising company created to help Latinos to manage their business' image, just as she does with her own. Adriana also owns her beauty salon Vive Beauty Lounge.