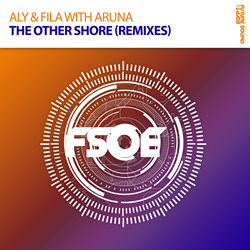 Summer is coming, and few electronic musicians are as adept at encapsulating the warm-weather essence as Egypt's DJ/production duo, Aly & Fila.
New York, NY (PRWEB) June 01, 2015
It's summertime and few electronic musicians are as adept at encapsulating the warm-weather essence as Egypt's DJ/production duo, Aly & Fila. The pair's latest effort, the single with vocalist Aruna, "The Other Shore" (Armada Music), is out now. The name of the single is taken from Aly & Fila's full-length studio album of the same title.
The Aruna vs Steve Kaetzel Radio Edit is a lusty thriller with a bassline so rich and creamy as to lay the perfect foundation for Aruna's sultry vocals. The mood on this edit is lighthearted yet wizened by time, the chorus so effervescent it positively bubbles above the dancefloor.
The Fady & Mina Radio Edit digs much deeper into Aly & Fila's clubland roots with a noticeably faster pace that puts this version more comfortably at home on a late-night thumping dancefloor than on a pop radio broadcast. The instrumental lifts Aruna's vocal high into the air, creating a sensation of jubilance and joy. Listen to this edit and it's easy to see how Aly & Fila grow their millions-strong legion of fans with every show they perform. Press "play" on this song and it's impossible not to smile.
The Husman Radio Edit is a menacing, monstrous remix so vicious and prowling that it commands attention. The filthy production at the outset makes for an even more jarring juxtaposition when the acoustic piano riff enters, and Aruna's voice is the only medicine capable of soothing demons in the night. The high-energy build and subsequent crash cause festival fists to pump in unison to this remix so good it's scary.
The Solarstone Pure Radio Edit takes the listener back to the womb, before the beginning of time. With its gently caressing piano and Aruna's reassuring vocal, the song becomes a beckoning invitation. The listener is complicit and imagines running across an eternal beach, stumbling hand-in-hand with Aruna upon a celebration where everyone is young, everyone is healthy and everyone is happy.
Aly & Fila (real names: Aly Amr Fathalah and Fadi Wassef Naguib) are Egyptian electronic dance music (EDM) DJs and producers known for a style of electronic music known as uplifting trance. In the recording studio, they create enigmatic-sounding, evocative music characterized by resonant basslines, driving percussion and opulent harmonies for an uplifting trance sound that has come to be irresistible to their devoted global fanbase. Each year, Aly & Fila perform more than 100 live shows at leading nightclubs and festivals around the world; their weekly radio show, Future Sound of Egypt (FSOE), is broadcast on terrestrial, satellite and Internet radio in more than 30 countries on 40 radio stations and counting.
For more information on Aly & Fila, Armin van Buuren, Andrew Rayel, Armada Music and more, contact EMILY TAN Media Relations (U.S./North America), +1(917) 318-3758, EmilyEmilyTan(at)aol(dot)com and visit http://www.ArmadaMusic.com and http://www.AlyandFila.com. Follow EMILY TAN Media Relations on Twitter @EmilyEmilyTan.
# # #