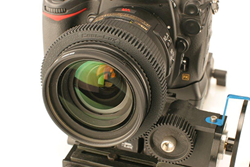 The Cool-Lux SHIFT Baseplate is a very uniquely designed camera rig support. The patent-pending Quick-Shift action allows the shooter to quickly and easily transition between tripod and shoulder shooting modes
Bartlett, IL (PRWEB) June 01, 2015
The Cool-Lux site is up and running with its new online store showcasing a new line of video camera rigs and accessories. The company is offering a 30% discount on all pre-orders placed by June 30, 2015.
Notable new products include Cool-Lux Lux Gears, a new, convenient line of follow focus lens gears and the innovative new Cool-Lux SHIFT Baseplate, a universal camera mount system that converts from a tripod compatible rig to shoulder rig with the simple press of a button.
The cinema pitched Lux Gears are compatible with any standard follow focus and are available in 16 different sizes. Each gear is designed to stretch over the focus barrel of a lens and stay in place with a tight compression fit. This new patent pending design eliminates the need for buckle mechanisms, tie wraps and screws and in turn allows for smooth, continuous 360° of rotation. The gears can be quickly installed or removed without the need for tools and are completely reusable.
The Cool-Lux SHIFT Baseplate is a very uniquely designed camera rig support. The patent-pending Quick-Shift action allows the shooter to quickly and easily transition between tripod and shoulder shooting modes while also providing extra chest support to help stabilize the camera. With the quick press of a button, the spring-loaded Quick-Shift Plate instantly transforms from tripod mode to shoulder mode. Unlike other camera rig solutions, there is no extra time spent configuring the rig between tripod and shoulder setups and no extra parts needed to make the plate compatible with any tripod.
The SHIFT Baseplate is included in all four categories of the new Cool-Lux camera rigs. The FS7 Cool-Rigs feature a rosette mount for the Sony FS7 handle, ENG Cool-Rigs feature a single telescoping handgrip, Cine Cool-Rigs feature dual telescoping grips and Classic Cool-Rigs feature a deluxe, solid walnut handgrip on a rosette.
All the camera rigs and accessories are available for pre-order at the 30% off discounted price through the end of June when the Cool-Lux camera rigs and accessories are expected to be available to ship. The Cool-Lux Lux Gears are currently in stock and available now at http://store.cool-lux.com
Cool-Lux is a manufacturer of high quality lighting and camera accessories for video professionals. Cool-Lux is a division of PromarkBRANDS.