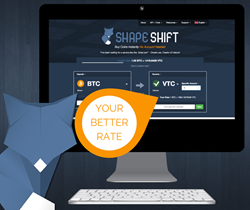 Switzerland (PRWEB) June 01, 2015
ShapeShift AG, the world's fastest digital asset exchange, today released a new pricing algorithm. The update enables better rates across over 700 trading pairs on the exchange.
Leading digital assets such as Bitcoin, Ripple, Litecoin, Dash, Dogecoin, BitShares, NXT, and Counterparty can be traded instantly and securely at much better rates since the update. Three new cryptocurrencies: Infinitecoin, Monacoin, and Vertcoin, were also included in this release for the first time.
To take advantage of the superior rates, the user only needs to specify how much of the receiving asset she wishes to receive. The new rate is then calculated automatically and shown to the user.
"Our prior system wasn't able to take into consideration the size of the user's trade, so the price they received had a "safety buffer" that led to less competitive rates," said CEO ShapeShift Erik Voorhees, "Now, if the user opts to tell ShapeShift how much digital currency will be traded, a significantly better exchange rate will be provided."
ShapeShift's trading platform re-imagined how an exchange should work, forgoing traditional user accounts and deposit delays. This makes ShapeShift not only far faster for trading, but also substantially improves consumer protection, as funds are not at risk and the exchange itself is much less vulnerable to hackers.
ShapeShift has been building strategic partnerships throughout the Bitcoin and blockchain industry, including Coinomi, Purse.io, and a new merchant processing agreement reached recently with CoinPayments.net.
The platform now supports over 750 active trading pairs, more than any other digital currency exchange in the industry.