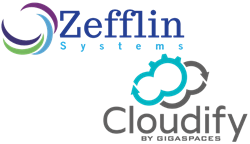 With Cloudify, we can deliver Pure-Play orchestration with pre-built content at an open source price point.
San Diego, California (PRWEB) June 02, 2015
Software consulting firm Zefflin Systems today announced that it has teamed up with GigaSpaces Technologies to provide its customers with open source cloud orchestration. In referring customers to GigaSpaces Cloudify, Zefflin enables its clients to automate key IT operations functions, such as application provisioning, governance and compliance using portable orchestration content featuring Cloudify. For application development and IT operations organizations, it represents the opportunity to lower implementation costs, avoid vendor lock-in, improve speed of delivery, and dramatically increase staff productivity at a price point significantly lower than traditional enterprise software solutions.
IT organizations adopting public, private and hybrid cloud technologies face challenges in re-arranging people, process and technologies in order to realize ROI. Automation is vital to that effort because increasing staff to manage the new environments is not an option. Orchestration is integral to a complete automation solution because it ties together the overall lifecycle processes of complex computing environments. When orchestration content is portable, it adds yet another advantage for re-use, thereby lowering operational costs further.
In teaming up with GigaSpaces, Zefflin is able to deliver GigaSpaces' Cloudify Pure-Play orchestration software to its clients along with their own proven content development and IT operations automation expertise. Because Cloudify supports the TOSCA standard, it is readily portable and supportable within OpenStack, an open source private cloud platform gaining rapid popularity in the IT marketplace.
"With Cloudify as a key part of our solution portfolio, we can bring orchestration to customers at an open source price point with pre-built content," said Sam Melehy, CEO of Zefflin. "This enables us to automate IT operations in a way that leverages existing systems and minimizes risk and cost for our customers. Cloudify's support of the TOSCA standard makes it portable and re-usable, which reduces ongoing costs and prevents vendor lock-in."
"Cloudify has been implemented at large enterprises and Telcos across several segments, especially in Healthcare, Finance, Logistics and IoT, helping organizations to reduce vendor lock-in when it comes to virtualization and cloud deployment," said Shay Hassidim, Deputy CTO and Distinguished Engineer at GigaSpaces. "We are excited to expand our Cloudify ecosystem by supporting Zefflin's initiatives in bringing enterprise automation to the growing mid-market."
About Zefflin Systems
Zefflin is focused exclusively on Data Center Automation and Cloud Management solutions implementation and integration. As a world-class, agile, center of excellence, our aim is to work with best of breed software, combined with the industry's best technical consulting and integration talent. We cut through the hype, identifying which tools can be implemented and integrated to effectively automate application development and IT operations. We offer high quality, cost effective solutions addressing the automation of the entire lifecycle of complex computing environments, from request/catalog management, automated provisioning (OS, application, database, storage, network), to policy governance and compliance. Our vision is to bring to market consulting/software solutions that enable the lights-out data center. This will allow our customers to implement fully automated private, public and hybrid cloud systems, delivering low cost, high quality services to their customers while minimizing personnel cost. http://www.zefflin.com