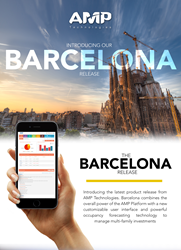 "We have approached the Barcelona update as we do all of our product updates...bring the absolute best to the table and continue to lead in asset management software development." -Arvind Sathyamoorthy, CTO and SVP of Product
San Ramon, California (PRWEB) June 02, 2015
AMP continues to change the face of Commercial Real Estate by adding a new multi-family update to the already revolutionary Asset Management Platform. Drawing inspiration from the sights and sounds of one of Spain's most vibrant cities, AMP's Barcelona Release creates a completely new way to manage multi-family assets while driving up occupancy rates and forecasting for a brighter more lucrative future.
AMP's Barcelona Release – Click to Explore the Power of Barcelona
The AMP Barcelona Release delivers a more powerful performance with a newly envisioned multi-family user interface allowing users to better analyze and follow data trends. The improved functionality delivers lasting results by showing 12 weeks of past occupancy rates and vacancies. This enables users to use past data to plan for a more profitable future.
The Barcelona Release also introduces a never before seen forecasting tool for multi-family assets. Using existing data, the AMP multi-family platform looks 8 weeks into the future enabling users to anticipate occupancy levels and adjust budgets to accommodate for futures needs and potential risks. Managing the success of multi-family investments and increasing revenue has never been easier than with the Barcelona Release. The AMP multi-family dashboard can now be customized to accommodate the needs of any company. Users can now see the information they find valuable in a format of their choosing in order to grow their business in their own way.
Success with Multi-Family Investments – Click to Explore the Barcelona Release
With the Barcelona Release, AMP continues its streak of providing game changing software for Commercial Real Estate. AMP continues to be the ONLY complete Asset Management Platform for Commercial Real Estate, and leads the charge in asset management software development. Arvind Sathyamoorthy, AMP Technologies' CTO and SVP of Product, "AMP completely changes the way commercial real estate organizations approach and manage their portfolios by simplifying all levels of data into usable and actionable visuals while still retaining the integrity of the information. This tool gives leaders access to their entire company anywhere and from any connected device."
The Barcelona Release goes beyond even the game changing multi-family updates. Barcelona features faster performance of both the Financial and Leasing Dashboards giving users an even greater ability to make in the moment decisions that generate revenue and grow business.
Make Smarter Investment Decisions, Faster – CLICK HERE
With the AMPPipeline users can now use the AMP Platform to customize reports. AMP users can now see and share the data that makes their company grow. Also, by restructuring the Chart of Accounts feature, users can consolidate multiple different COA's into one. This feature streamlines finances and continues to connect business leaders to their assets in a way that saves on operating costs and speeds up the decision making process.
AMP condenses all the data from a portfolio into visual graphics that drive companies forward. Commercial Real Estate data is now available in real time, anywhere from any device. Leaders can stay up to date with a business's growth while seamlessly communicating across all levels of an organization. This multi-level collaboration enables AMP users to quickly identify opportunities and risk while staying far ahead of competitors.
View the Latest Advancements In Commercial Real Estate Technology – CLICK HERE
AMP's versatile and responsive commercial real estate platform will be showcased at RealComm from June 8-10 in San Antonio, TX, in the main conference hall. Visitors to the AMP booth will be introduced to AMP and the latest Barcelona Release. Visitors will also have an opportunity to win prizes will enjoying the innovations of AMP products.
About AMP Technologies
Visit AMP Technologies – CLICK HERE
AMP continues to see top Commercial Real Estate organizations request to sign up for their innovative platform and utilize their cost effective service offerings around due diligence, property accounting, lease administration, asset management and data standardization. AMP combines best-of-breed performance with speed and accuracy. Their company is built on what clients need to make their job easier – simplicity is at the core. Intuitive and innovative solutions drive a profitable business; this is what AMP delivers.
Headquartered in Mountain View, California, AMP Technologies provides a suite of products and services for commercial real estate asset management. The AMP Technologies Platform is a powerful, yet highly intuitive, platform to monitor and manage individual properties and large portfolios. Its products are built on best-of- breed cloud technology and are designed for the modern enterprise to provide sophisticated business intelligence, collaboration and management tools. With a comprehensive, yet highly intuitive, platform for monitoring and managing individual properties to entire portfolios, AMP provides the key tools needed for every level of management for effective analysis and decision-making.