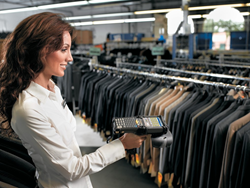 We've learned over the years what it takes to make something that scales for both small and large businesses - which makes this technology available to anyone.
Doylestown,, PA (PRWEB) May 31, 2015
Advanced Mobile Group, an industry-leader in RFID implementation and a pioneer in RFID application
development across new industries, has released it's new centerpiece software product, "ViziTrace", that
simplifies the implementation process for businesses big and small alike.
With easy installation, simple licensing models and the ability to "snap-on" to existing databases and other
ERP, POS and CRM solutions (in addition to many others), ViziTrace provides the easiest path to taking the first step into RFID and building on it as you learn and test in order to maximize impact on the bottom line and minimize risk of disruption or breakage of legacy processes.
Get the Complete Intro To ViziTrace Here.
Co-founder Karl Herring, an industry veteran with over twenty years experience of designing mobile
computing solutions, describes the opportunity now available to any business "Having worked to design
solutions for businesses as small as boutique retail shops and as big as large government agencies, we've learned a lot over the years on what is really needed to make it easy, even in industries that you wouldn't normally associate as beneficiaries of RFID technology."
For a complete downloadable intro to ViziTrace, or to contact AMG for a review consultation to see what
potential solutions are for your business, click here.
About Advanced Mobile Group (AMG)
AMG provides tailored, industry-specific solutions that exceed their clients' standards for performance and
reliability. From hardware and software to integration services, Advanced Mobile Group delivers complete,
end-to-end mobile computing solutions from leading manufacturers—providing unparalleled value to clients of all sizes. With a deep knowledge and experience that has overseen hundreds of implementations over 20 years, AMG delivers improved speed, accuracy and transparency through the most cost-effective efficiiency gains mobile solutions can deliver.