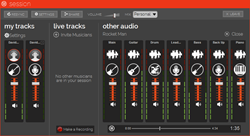 Austin, TEXAS (PRWEB) June 01, 2015
JamKazam, the developer of a live music platform and social network for musicians, today announced the launch of its new JamTracks product. All musicians know it's far more fun and rewarding to play with others than to play alone, but most musicians are not in a band. JamTracks deliver full multi-track recordings with amazing fidelity to the original, enable recording and sharing with the free JamKazam application, and even let musicians play JamTracks online in real time with others using the free JamKazam Internet service. For a limited time, musicians can get their first JamTrack at no cost to try one.
To see and hear what JamTracks can do, watch this JamTracks video.
To browse through available JamTracks, preview master mixes and individual tracks, and get a JamTrack, visit this JamTracks web page. For a limited time, musicians can get their first JamTrack at no cost. After the first JamTrack, others cost $1.99 each.
WHAT MAKES JAMTRACKS UNIQUE
Unlike traditional backing tracks, JamTracks offer musicians:
**Full Multi-Track Recordings**
Each JamTrack includes fully isolated tracks for each component of the master mix, so users may mute/unmute or adjust the volume of drums, bass, lead guitar, rhythm guitar, lead vocals, backing vocals, and so on individually. A musician may, for example, listen to just a single part to hear and learn its nuances, and may then turn around and mute just that part to play live along with the rest of the parts. Or a drummer might play with just the bass part before introducing the rest of the band to the mix.
**Amazing Fidelity to Original Recordings**
Many backing tracks today sound like sad elevator music versions of the song. JamKazam sources JamTracks from the world's leading tribute bands, which specialize in re-creating the sound of the original artist and recording. In many cases, the JamTrack is almost indistinguishable from the original, and the quality of the musicianship on each track is excellent.
**Making and Sharing Recordings**
Musicians may use the JamKazam application to play along with JamTracks, and may make recordings of their performance mixed together with any unmuted parts of the JamTrack. These recordings are immediately available in the JamKazam cloud, so users may easily share a link to their recordings with friends or a music teacher via Facebook, Twitter, and email.
**Playing Online with Others**
Perhaps most innovative of all, musicians may use the JamKazam Internet service to play JamTracks online in real time with other members of the JamKazam community. For example, a drummer might start an online session to play drums with "Back In Black" by AC/DC. A bass player could join the session, and the bass part of the JamTrack could then be muted, so that the drums and bass parts are being played live by the two musicians, while the other parts of the song are supplied by the JamTrack. Each musician hears the full mix while playing.
GREAT FOR MUSIC LESSONS
Music teachers are excited about JamTracks because they provide a more rewarding experience and a great incentive to keep music students practicing. It can be hard to grind away at individual practice of a single part. With JamTracks, students can alternate between practicing their own part to improve their technique and playing along with the full band to experience the pleasure of the music as a whole.
JAMKAZAM LIVE MUSIC PLATFORM & SOCIAL NETWORK
JamTracks are the latest new product from JamKazam. To understand the capabilities of the JamKazam live music platform, musicians may watch these JamKazam tutorial videos. Musicians who get JamTracks may also plug into a community of thousands of musicians who are already on JamKazam and interested in playing with others online.
For more information on the company and its products, visit the JamKazam website at http://www.jamkazam.com. For members of the media interested in product photos, videos, audio recordings, screenshots, user testimonials, and other resources, please visit the JamKazam Media Center.
ABOUT JAMKAZAM
JamKazam develops an innovative live music platform and social network for musicians. The company's products enable musicians to play music together in real time from different locations over the Internet as if they are sitting in the same room. JamKazam is a private company headquartered in Austin, Texas.
###