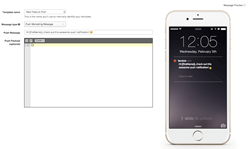 "Iterable's new mobile push service is the latest example of the company's relentless focus on growth marketing innovation."
San Francisco, CA (PRWEB) June 03, 2015
Iterable, a powerful growth hacking and marketing platform designed for eCommerce and high growth companies, has released mobile push notification services for iOS and Android apps. Businesses can now use the multi-channel platform to cover 100% of their email and mobile app communication needs. The launch of push will help current and future clients to drive mobile app opens and user action.
Iterable's new push notification service empowers marketers to send promotional or event-based mobile push notifications. Each message can be personalized using custom user data and tailored send times. Push notifications are also integrated with Iterable's existing drip campaign and A/B testing infrastructure. Using workflows, a robust drip campaign builder featuring an intuitive drag-and-drop interface, clients can design marketing automation programs using both email and push, as well as implement logic that will send a push notification if a user does not open a specific email or vice versa. In addition, Iterable's A/B experiments allow clients to constantly test and improve their push campaigns for greater open and conversion rates.
"When building Iterable, our goal has always been to create a cross-channel marketing platform," says Justin Zhu, CEO of Iterable. "We are now a service that lets marketers build integrated drip campaigns using two of the most effective communication channels with the highest ROI's to reach customers. It's simply a killer combo for maximizing user engagement."
Iterable investors and clients are equally excited about the new feature. "Iterable's new mobile push service is the latest example of the company's relentless focus on growth marketing innovation," says Sean Dempsey, Co-Founder and Managing Director at Merus Capital and investor in Iterable. "They continue to define what it means to be a next generation marketing platform." In addition, Bretlyn Curtis, Manager of Lifecycle Engagement at Yerdle, an Iterable customer, says, "As a mobile-first company, we are beyond excited to start optimizing our push communication."
About Iterable:
Co-founders, Justin Zhu and Andrew Boni, got the idea for Iterable during their previous positions at Twitter and Google, where they saw, firsthand, the effectiveness of email and mobile in driving revenue and user growth, but also the difficulty in creating truly engaging messages. Why must it be so hard for marketers to launch personalized campaigns or to perform message A/B testing without technical support? In response, they decided to build a comprehensive marketing tool that is both super easy for engineers to integrate with existing systems and for non-coders to create advanced marketing campaigns that really engage the end user.
Iterable participated in the Spring 2013 batch of the SF-based AngelPad program.The seven-person company is based in downtown San Francisco, and recently announced $1.2 million in funding in January 2015.