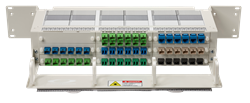 The HDMC helps future-proof the network ...with port density that easily scales as the subscriber base grows
Livermore, CA (PRWEB) June 02, 2015
All Systems Broadband (ASB) announces the availability of its new High Density Multimedia Chassis, or HDMC. This versatile and highly scalable product enables network service providers to supply multiple types of service connections, particularly in commercial applications.
"We recognize our customers' objective to maximize network infrastructure efficiency by having a flexible, scalable, and highly configurable platform to deliver varied types of business services" said David Braga, Vice President of Product Development. "The HDMC helps future-proof the network by bringing multimedia connections together in a single chassis with port density that easily scales as the subscriber base grows" " he said.
Built in the USA, the HDMC chassis is constructed of lightweight powder-coated aluminum and the design includes integrated cable management and multiple ground locations. Through the use of easily interchangeable panels with industry standard LGX dimensions, the chassis can handle fiber connections such as LC and SC as well as copper connections such as RJ45 and F81 coaxial connectors. The HDMC also supports the increasingly popular Multi-fiber Push On (MPO) type connectors.
The flexibility of the HDMC also extends to its mounting options. The chassis is designed to work in both wall-mount and 19" or 23" rack-mount environments. It can be placed in a vertical or horizontal orientation when used on a wall, allowing its use in crowded telecom closets or similar environments. The chassis provides generous cable management on both its front and back sides, facilitating installation of new services and rearrangements as needed.
"Solutions such as the HDMC simplify a service provider's installation, and therefore provide an important advantage in achieving a successful and timely network deployment." says Braga.
More information about the new product may be found by clicking here.
All Systems Broadband is a major supplier of fiber and copper connectivity products to service providers throughout North America, and has millions of its products deployed with customers, including many of the world's largest telecommunications providers.
###
All Systems Broadband (http://www.allsystemsbroadband.com) is a provider of innovative telecom solutions and an independent manufacturer of connectivity products for the evolving voice, video, and data industries. The company designs and manufactures connectivity solutions based on customers' requirements including fiber cables and apparatus, fiber cabinets and shelves, a full line of transceivers, CWDM/DWDM and other passive devices, HDMI, A/V cables and more.