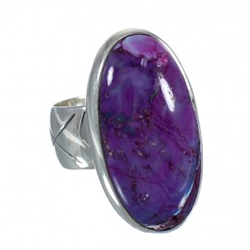 Purple has always been associated with royalty and any purple gemstone instantly adds a sense of richness and regality to any style.
(PRWEB) May 31, 2015
Turquoise has always been a revered stone throughout history and various civilizations. Most known for its blue hue, turquoise comes in a variety of shades and colorations. From pale blue to brown, the color depends highly on where the stone was formed.
Magenta turquoise is a purple-hued turquoise stone that can easily turn into this summer's hottest must-have accessory. According to SilverTribe.com spokesperson Chris Anderson, "Purple has always been associated with royalty and any purple gemstone instantly adds a sense of richness and regality to any style. Our magenta turquoise is set in sterling silver which emphasizes its vibrant color."
It still features the same characteristics of all other turquoise stones. The color is never flat and often showcases various shades of purple in one stone. It can also contain a matrix, or lines of color within the stone, that often appear gold against the rich hue. This versatile stone can be set with other stones for a unique look. Paired with opal tends to give it a more elegant look, perfect for summer cocktail parties or weddings. Set with other shades of turquoise or coral lends itself for a bright and festive look which works great for most summer wear and daytime events.
One of the best ways to wear this bold color is in a bold shape. Square-shaped, elongated, multi-piece inlay, and even needlepoint settings give this shade the attention it deserves. The right magenta turquoise jewelry pieces can add dimension to any outfit, including t-shirt and jeans to a little black dress. Even though purple is often seen as a powerful color, it should be worn with at least a pairing of pieces if not more.
"You can create a very stunning look with a magenta turquoise necklace and single stone ring while accenting it with a slim bracelet and earrings that only contain a hint of the stone. This look not only helps set the turquoise apart but also allows the sterling silver to shine," adds Anderson. "Our magenta jewelry comes in a variety of styles, some inspired by the Southwest U.S. and others inspired by Native American art. All of the jewelry can be easily added to any personal style."
With the summer months quickly approaching, magenta turquoise is the boldest and easiest choice to complement any wardrobe and for any event. SilveTribe.com has become aware of this trend and has stocked its online shelves with modern twists on Southwest and Native American designs.
View the best styles of magenta turquoise jewelry at SilverTribe.
About SilverTribe.com
SilverTribe.com is the online leader in Southwest-inspired jewelry and accessories including necklaces, rings, earrings, pendants, bolo ties, and more. SilverTribe.com ships to all 50 states and supplies some of the most affordable sterling silver jewelry available. SilverTribe.com carries modern twists on Southwest styles as well as authentic Navajo, Hopi, and Zuni pieces made by Native American artisans. For more information, visit SilverTribe.com.